Cuba is a poor country with a lot of economic contradictions. Contrary to other countries in flagrant poorness, budget and mid-range travelers will find the island expensive. We spent two weeks in Cuba and traveled to six locations on the west half of the island. This travel budget post will outline the price of transportation, accommodation, visa, food and entertainment for the two of us. Finally, I explain some ways I could have kept costs lower. To make it easier, I'll do the math in dollars/CUC, as the exchange rate is roughly 1:1.
Budget needed for getting into the country
We flew on the route Bucharest-Frankfurt-Toronto-Havana with Lufthansa and Air Canada. It wasn't the best choice, as it was very tedious and we had two layovers. For the plane tickets, we paid 535 euro/person, including checked luggage. At this moment, you can get more or less the same price or even better from another company with better connections.
For Canada, we needed an ETA, which was 7 CAD/person and we bought online.
Air Canada offers the Cuba visa for free on the last segment of the flight to all their passengers. However, we couldn't exit our country without presenting the visa. We knew this beforehand and also applied for a visa with the embassy of Cuba in Romania. The visa for Cuba for 30 days with one entrance costs 22 euro if you go in person or 47 euro if you are represented by someone else at the embassy. It can also be bought when you enter the country, but check ahead of time if you are able to exit the country you're in without it.
In order to get your visa, you'll also need travel insurance. We paid 196 RON each for Turist Plus Premium travel insurance for 18 days with Generali. It is our insurance company of choice since we missed our flight back from Sri Lanka and they refunded the costs of exchanging the tickets, food and accommodation for one more day, without any issue.
Flights – 600$/person
Visa – 25$/person
ETA – 5$/person
Insurance – 46$/person
Total costs to get into the country: 676$/person (1352$ for both of us). We paid for this months before actually going to Cuba.
Our two weeks itinerary in Cuba
As our stay was far too short to cover the entire island, we decided to explore only six locations, out of which the most remote was Playa Giron. I enjoyed immensely our itinerary and would do it exactly the same if I were once more a first-time traveler to Cuba. Our itinerary was: Havana (the complex capital of the country), Viñales (mogotes, caves and tobacco farms) – Playa Giron (life in a village and time on the beach) – Trinidad (the most colorful colonial city on the island) – Cienfuegos (the French city of Cuba) – Varadero (all-inclusive resort) – Havana (never enough time). I mention it here because your itinerary will be a major factor for your budget.
Accommodation budget in Cuba
We took advantage of the system of casas particulares in Cuba in 5 out of 6 locations (6 casas particulares, as we've stayed in two different ones in Havana). The locals that rent their spare rooms have a mandatory sign on the door, a blue upside down anchor. If it is red, it means that the owners are allowed to host only Cuban people. The price ranged from 15$ to 25$ for a double room with a fan/AC and private bathroom. Sometimes, there was also a fridge or a TV. In Playa Giron, the room was designed for 3 persons, but we rented it just for us.
We enjoyed a lot staying in with the locals and usually chose to have breakfast in the house for 5CUC/person. Almost all the rooms were booked in advance on Airbnb, with the exception of the last one. We believed we might be able to stay with the hosts from our first casa in Cuba, but they were already fully booked two weeks ahead of time. We had to rely on them to find us another place to stay on our last night in Cuba. It worked fine for us, but not without emotions. If you want to be sure, better book beforehand on Airbnb, even more, if you don't speak Spanish. First-time Airbnb users get a 40$ discount by using my link.
We wanted to also experience an all-inclusive resort and booked 3 nights at Iberostar Bella Costa in Varadero, a 4 stars hotel on booking. It didn't impress us much, I wouldn't do it again, but I'm happy that we got to check what it's like.
3 nights in Havana at Casa Nini. By far the best house we've stayed in and the most delicious breakfasts. Ricardo really spoilt us. – 25$/per night, 75$ in total.
1 night in Havana at Casa Barbara. This was booked by our first host. – 25 CUC
3 nights in Viñales at Villa Merci. I wish I hadn't booked this one. The view is great, but it appears in the wrong location on Google Maps. Also, as soon as we got there, the host told us that her sister from was on a visit and that she has moved us for 2 out of the 3 night to a relative. I don't think this was a decision she should have made for us without even letting us know. She did pay for our breakfast on the first morning, but at the same time, the hose didn't have the same conditions. – 28$/night, 84$ in total.
2 nights in Playa Giron at Hostal Sur Caribe. The hosts were really nice, very well informed and helped us with anything we needed. – 23 $/night, 46 $ in total
1 night in Cienfuegos at Font's House, Midaimys y Guillermo in a basic room with nice and extremely chatty hosts. – 20$
3 night in Trinidad at Hostal Malbelis. The hosts were nice, the room was comfortable and the view from the city center was the cherry on top. – 22$/night, 66$ in total
3 nights all-inclusive in Varadero at Iberostar Bella Costa. The hotel was fine, but nothing impressive. – 456$
Total budget for 13 nights at casas particulares: 316$/couple.
Total costs with accommodation, including all-inclusive: 772$/couple for 16 nights. We paid 747 in advance on booking and Airbnb and 25 cash for our last night.
Food budget in Cuba
Before going to Cuba, we've read that it might be possible to get dinner at the casas particulares, besides breakfast. We've asked in 3 of them, but were redirected to paladares/restaurants. There was no access to the kitchen in any of the casas particulares we've stayed in. The food is quite expensive, especially taking into consideration its quality and look and the price of ingredients or food for Cubans. For better food, go with the crowds.
Our favorite place was by far El Cocodrilo in Playa Giron, which I can't recommend enough. We've also eaten once at El Rapido, but the food was tasteless and looked badly. I wouldn't suggest it, unless you're on an extremely tight budget.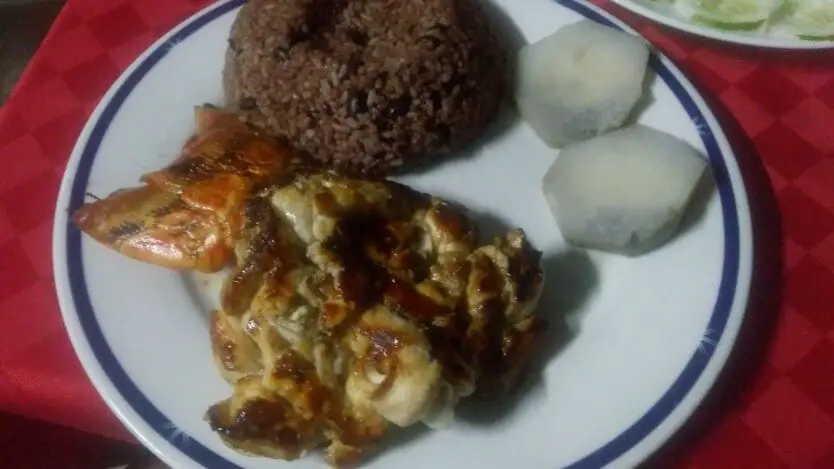 One main dish (chicken or pork) with sides costs 7-8 CUC. A soup cost around 2 CUC. Breakfast was 5 CUC in all the houses we've stayed at. Trinidad was the most expensive place to eat. The dishes that cost 10-15 CUC in other places cost 25-20 CUC there.
We've tried several local cocktails which are priced anything from 1 to 4 CUC in a normal bar or 6 CUC at El Floridita or La Bodeguita del Medio. A beer was 1-2 CUC, either local (Cristal, Bucanero) or international (Heineken).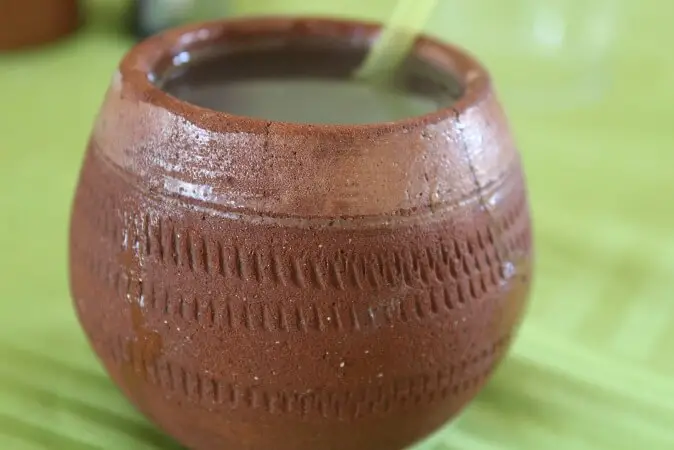 passion fruit juice – 2CUC
cane sugar juice with rum – 3 CUC
star fruit juice with rum – 3 CUC
beer – 1/2 CUC
cocktail – 1-6 CUC
a 1.5L bottle of water – 0.70 CUC
lobster with sides in Playa Giron/Havana – 10 CUC
ropa vieja in Havana – 5.5 CUC
lunch at the restaurant on the way to Salto del Caburni – 10 CUC/person (+2 CUC for each juice)
ice-creal at Copelia in Cienfuegos – 1 CUC/person
all-inclusive at a buffet where the Viazul bus stops on the longer routes – 10 CUC (food, juice and coffee)
Total cost with food and drinks: 485$. We ate almost every day in paladares. Most days we had breakfast at the casa particular. We ate 2-3 meals a day, depending on the activities. We also had 3 days all-inclusive in Varadero and one at Caleta Buena.
Entertainment budget in Cuba
There are a lot of activities one can join in Cuba. As I'm into salsa and latin dances, I had to check out the clubs, some of which were impressive, like Disco Ayala aka "The Cave" in Trinidad. We've also attended a matinée concert of El Niño y la Verdad in Havana, Casa de la Musica in Trinidad, the local discos in Viñales, Cienfuegos and Playa Giron.
Some of the day activities we chose: trip to Salto del Caburni waterfall by carriage from Trinidad, Caleta Buena by bicycle from Playa Giron, tip-based tour in Havana, the change of guards at the castle El Moro in Havana, several caves and museums.
half-day trip to Salto del Caburni – 10 CUC/person (20 CUC for both of us)
Disco Ayala entrance including a mojito, but not bathroom – 5 CUC (10 for both)
concert El Niño y la Verdad at Casa de la Musica in Miramar, Havana – 10 CUC/person (20 CUC for both)
Casa de la Musica in Trinidad in the evening – 1 CUC/person (2 CUC for both)
Casa de la Musica in Viñales in the evening – 1 CUC/person (2 CUC for both)
Disco in Cienfuegos – 3 CUC/person (6 CUC for both)
Church and tower in Havana – 1 CUC/person (2 CUC for both)
tip-based tour in Havana – 5 CUC/person (10 CUC for both)
entrance to each of the two towers in Trinidad – 2 CUC/tower/person (8 CUC in total)
entrance to Casa Ferrer in Cienfuegos – 2 CUC/person (4 CUC for both)
Caleta Buena all-inclusive – 15 CUC/person/day (30 CUC for both)
bike guarding at Caleta Buena – 1 CUC each (2 CUC for both)
Indian cave in Viñales – 5 CUC/person (10 CUC for both)
Palenque de los Cimarrones in Viñales, cave and one drink – 3 CUC/person (6 CUC for both)
El Moro and change of guards in Havana – 8 CUC/person (16 CUC for both)
Total cost with entertainment: 150$.
Transportation budget in Cuba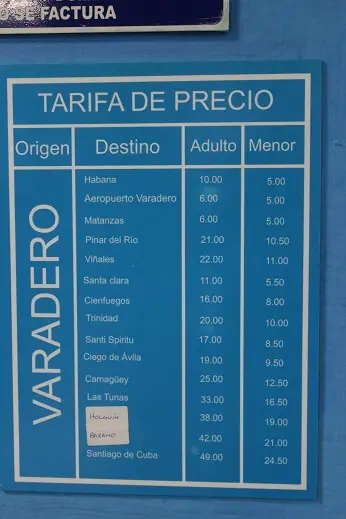 Viazul and taxi colectivos are the most common ways used by tourists to travel across Cuba. In 4 people, a ride in a taxi colectivo can be negotiated to the same price per person as the Viazul ticket. This only works if the car is full.
If you want to make sure you'll get a seat on a Viazul bus, you should buy the ticket as soon as possible online. Check the schedule on the site. I haven't seen it listed anywhere outside Havana and Varadero.
In Havana, we've used taxis and the local bus, which only costs 0.5 CUP/person (yes, CUP, not CUC). We chose the tourist buses for convenience in Varadero, Viñales and Playa Giron. In Playa Giron we took a bicitaxi from the bus station to our accommodation.
taxi from the airport to Havana city center at night – 30 CUC
taxi from Havana city center to the airport at night – 30CUC
taxi from Havana city center to Viazul bus station – 8 CUC (it has moved in March, it should cost less now)
taxi from Havana city center to Casa de la Musica Miramar – 8 CUC
taxi from Bella Costa to Viazul bus station – 6 CUC
touristic bus in Varadero – 5CUC/person (10 CUC for both of us)
touristic bus in Viñales – 5CUC/person (10 CUC for both of us)
touristic bus in Playa Giron – 3 CUC/person (6 CUC for both of us)
bike rental in Playa Giron – 5 CUC/person/day (10 CUC for both of us)
bicitaxi in Playa Giron – 2 CUC
Viazul bus ticket from Havana to Vinales – 12$ (24$ for both of us)
Viazul bus ticket from Vinales to Cienfuegos – 32$ (64$ for both of us)
Viazul bus ticket from Cienfuegos to Playa Giron – 7$ (14$ for both of us)
Viazul bus ticket from Playa Giron to Trinidad – 12$ (24$ for both of us)
Viazul bus ticket from Trinidad to Varadero – 20$ (40$ for both of us)
Viazul bus ticket from Varadero to Havana – 10$ (20$ for both of us)
Total budget spent for transportation in Cuba: 306$. We paid 186$ before leaving for Cuba on the Viazul tickets and the rest while we were there.
Souvenirs
We usually don't buy many souvenirs, but this time we bought many more than we thought we would. It's hard to visit Cuba and resist the temptation to take home some cigars or a bottle of rum for you and your loved ones. They added up quickly.
Cienfuegos seemed to be the cheapest for buying souvenirs. Authentic cigars, coffee, rum cost the same wherever you buy them from, including the shops at the airport, if you don't want to carry them much.
medium-size cow leather backpack from Cienfuegos – 30 CUC
6 magnets from Cienfuegos – 5 CUC
cigar cutter from Vinales – 4 CUC (it was 3 in Cienfuegos)
white pearls necklace and earrings in Varadero – 15 CUC
grey pearls necklace and earrings in Varadero – 25 CUC
1 box of "Cohiba" + 1 box of "Montecristo" + 1 bottle of rum (10 CUC at the shop) – 70 CUC
3 bags of coffee – 16 CUC
2 bottles of Havana Club 7 years old rum – 40 CUC
1 bottle of Havana Club 3 year old – 3 CUC
1 bottle of sweet Legendario 7 years old – 7 CUC
various cigars bought per piece accross Cuba  25 CUC
shell and beans necklace and earring in Vinales – 4 CUC
bone earring from Cienfuegos –  1 CUC
Total cost of souvenirs: 245$ (a loooot).
Wifi
In most parts of the world, wifi is widely available for free. Not in Cuba! We had to purchase wifi cards with 1 CUC/hour. They can be used in designated parks or hotels. If you decide to buy them on the street, be prepared to pay 2-3 CUC/hour.
Total costs for wifi: 6$.
Cuba's dual currency system
There are two currencies in Cuba: CUP or MN (moneda nacional) and CUC (peso convertible). 1 CUC is the equivalent of 1 $ and 1 CUC equals 24-25 CUP. Both tourists and locals can use them. After you exchange your money to CUC, just give back some CUC for CUP. It is perfectly legal, we did it in the first bank.
5-10 CUC converted to CUP don't seem like much, but it should be enough for an inexperienced tourist. I've read that some long-time travelers manage to use mostly CUP, but for a short stay, during which you don't plan to eat much from street vendors and use trucks for transport, it should be enough.
Be careful not to trade CUC for CUP with locals, especially when you buy something and expect change. The two currencies can be easily mistaken by the tourists.
Cash or card?
We had only cash only our trip, but take into consideration that we had paid for almost all our accommodation in advance with our cards through Airbnb and Booking, as well as our Viazul bus tickets. We took 2000 euro with us for food, entertainment, activities, and souvenirs, just to be sure we have enough. However, we only spent 920 euro (1030$) on the island and came back with 1120 euro. That made it pretty easy to calculate and figure out how much we've spent. The ATM fees are high in Cuba. However, if you don't pay anything in advance, a combination of cash and card would be advisable.
Our total budget for two weeks in Cuba was 3316$ (1658$/person).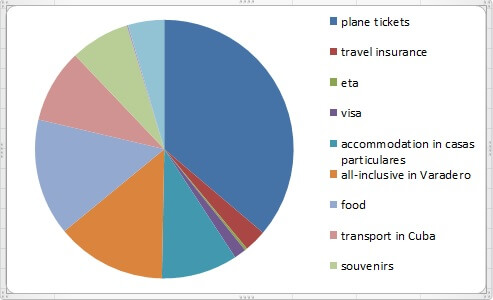 We've spent 1030$ during the actual trip on the island and 2286 in advance for accommodation and transport. Knowing this, you might want to do the same and not take much cash with you.
What currency should you take to Cuba?
As per the currency, we had euros in cash on us and it was a good decision. We didn't have to pay the high ATM fees or commissions. There is a 10% conversion fee for exchanging dollars which can greatly affect one's budget. It would be better to have euros, British pounds or Canadian dollars on you.
The rate at the airport was the same as the one at the banks in the center of the city. Surprisingly, the rate was slightly better at banks compared to cadecas. If you land by day, exchange some money at the airport. If you land by night, talk to the taxi driver. Ours accepted euro.
Could we have spent less?
I've got to recognize, even I was curious about this post and especially the total. As we haven't paid for all at once, it didn't make an instant huge hole in our budget. We've rounded it at 3000$, but didn't really calculate a total budget until today.
It helped that we were a couple and shared the rooms. First of all, we could have lowered the costs by not buying so many souvenirs (245$), but we don't regret it. Another expense we could have cut were the 3 nights with all-inclusive at Varadero. As our planes landed and departed at night, we didn't negotiate at all. We could have paid less, like 20-25$ per ride. One could also find flights at around 500$/person and exclude also the Canadian ETA. Cutting down on some of the activities would have helped maintain a lower cost, but we were on holiday and enjoyed them.
Do you think Cuba is expensive? How much did/would you spend in Cuba?
Pin it for later!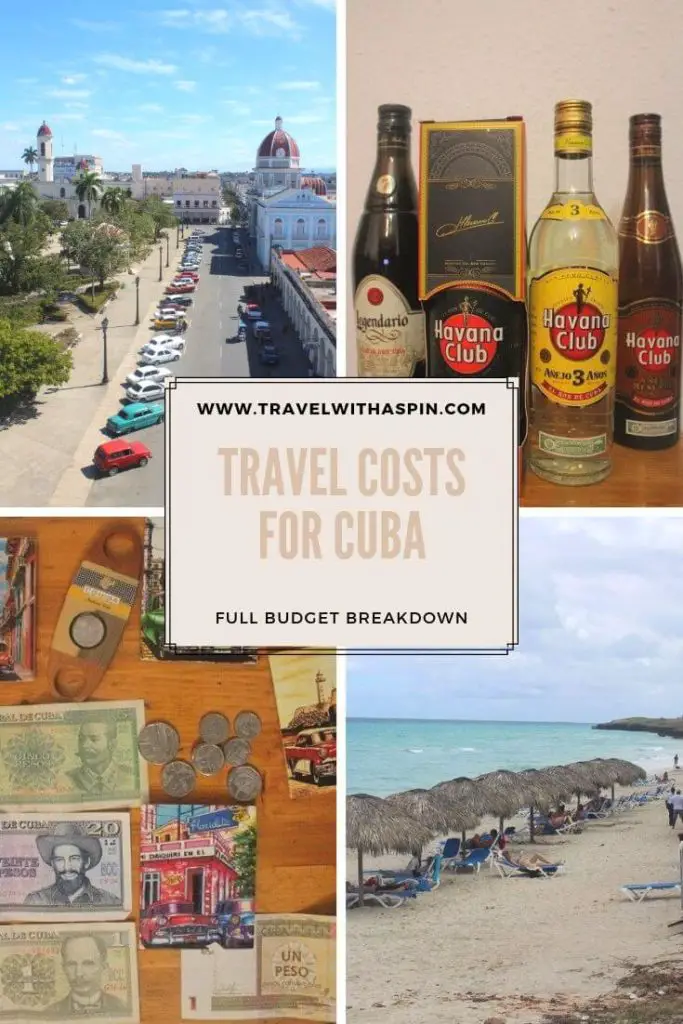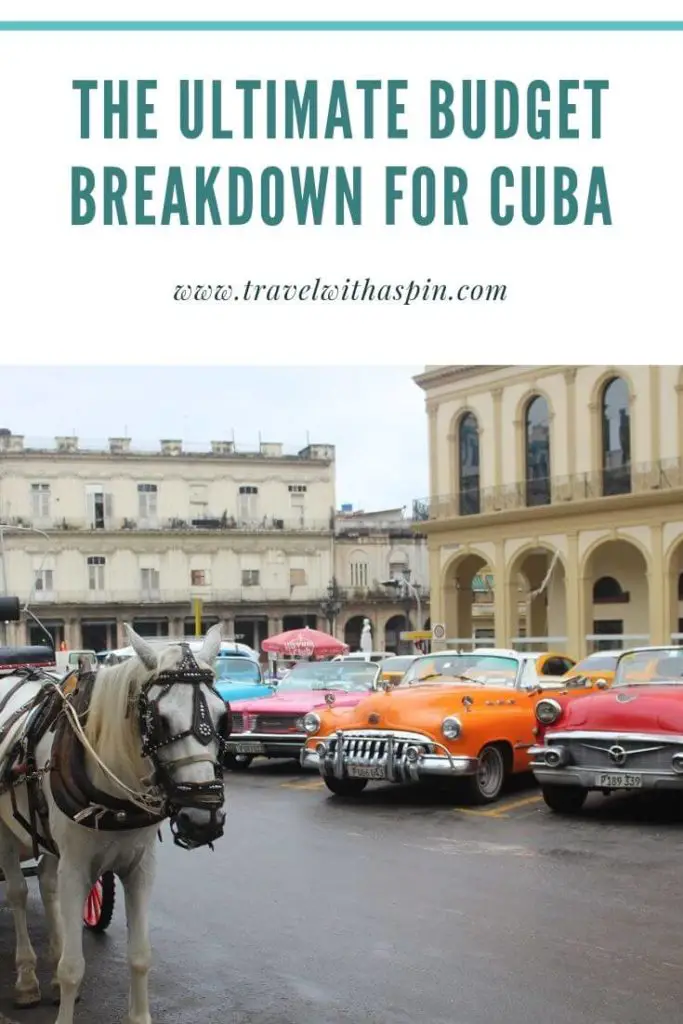 Travel With A Spin contains affiliate links. If you make a purchase through these links, I will earn a commission at no extra cost to you. Thanks for reading!