I've long postponed writing about Havana and Viñales. Not because I didn't love them, but they were both complex and I shied away at the thought of the massiveness of these two articles. I wanted to release them before leaving on the big trip… that, unfortunately, has already ended (more details on this later), but I didn't succeed. I have a good excuse, but for the moment, let's talk about that impressive city called Havana.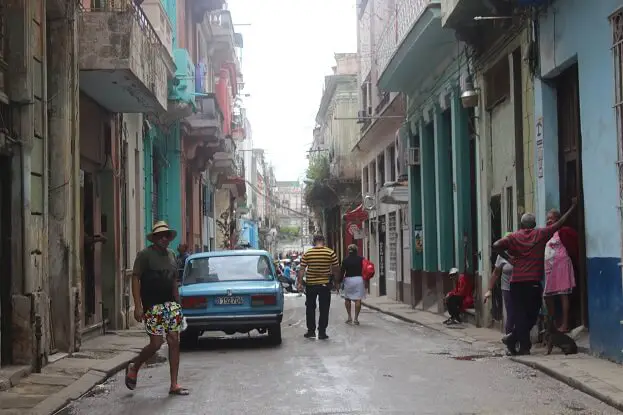 The Caribbean movie-like capital of Cuba is that kind of place that will surprise you at every corner, no matter how much you've read before about it or how many pictures you've already seen. Most of the persons traveling to Cuba think of vintage cars, tobacco, and cocktails, but this is only a small part of what this island represents. The capital of the island is like no other place I had ever experienced, both with good and bad aspects. It might not be too clean or well-organized, but the entire city seems to never sleep. Day and night, it is lively, colorful, musical and noisy. Its people talk aloud, laugh, call each other, play, listen to the music with the doors large opened and sometimes dance in the streets.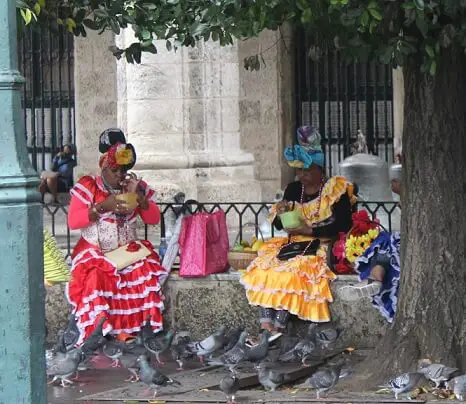 What to do and see in Havana?
Admire Vintage Cars
Vintage Chevys and Cadillacs from the '50s and '60s, some in good shape, running on the streets will take you back in time. The Cubans have noticed that the tourists go crazy for them and took advantage of it. One can tour the city in a bubblegum-pink vintage convertible for about 50 CUC. Next to the good-looking ones, and far most frequent, are the Russian Ladas, cracking and leaving behind a cloud of black smoke.
Walk along El Malecon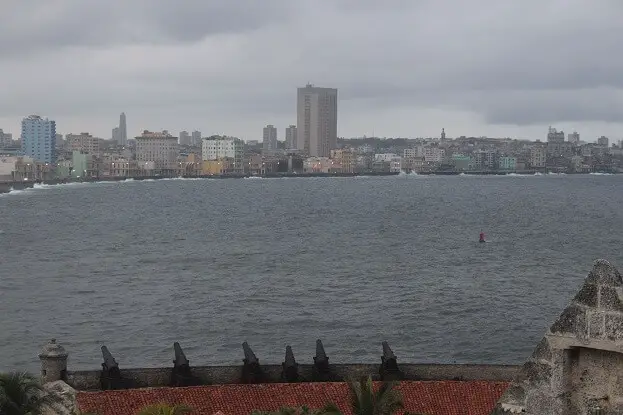 Don't miss a walk along the 5-mile coastal road at sunset. It's the most iconic element of the city, with American cars driving by and waves hitting the walls and wetting any pedestrian walking on the sidewalk. It is fascinating at any time of the day, but the sunset is beautiful. In summer, that's also the moment when it comes to life, as the young Cubans gather there to socialize and practice their salsa or reggaeton moves. In winter, there weren't many people, but it was nonetheless special.
Get lost in Old Havana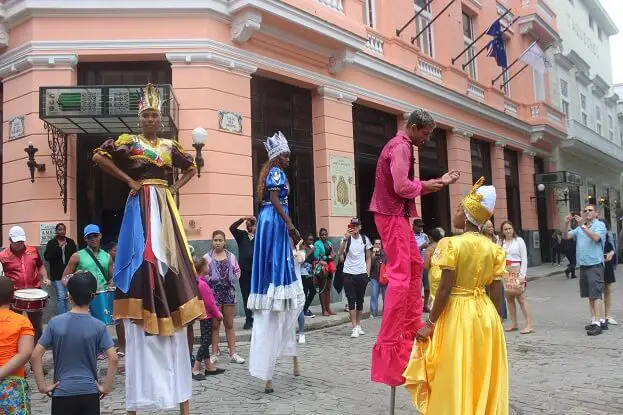 Take a day to discover the history loaded and colorful alleys of Old Havana, the prettiest neighborhood in Havana. It is part of the UNESCO World Heritage since 1982. You'll see a lot of impressive old buildings on the point of crumbling, but there is also a major renovation going on, that restored some of the old Spanish architecture. Stop at:
Calle Obispo – the most touristy street, being the main shopping lane packed with expensive souvenir shops, restaurants and bars with live music.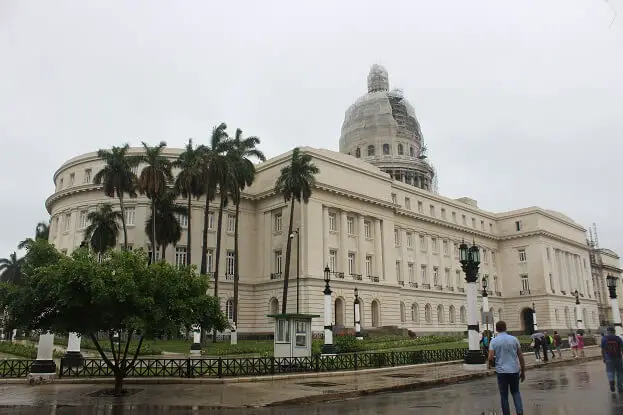 El Capitolio – a grandiose building in the heart of Havana built in 1929 to resemble the Capitol Building in, but just a little taller and larger, to the Cubans' pride and forever in restoration, I'd add.
Plaza Vieja – a place full of history, that has witnessed many festivities, parades, and even public executions.
Plaza de Armas
Plaza de San Francisco de Assisi
Plaza de la Catedral – Admire the exterior of the Cathedral of San Cristobal and its asymmetric towers. You can enter for free but have to pay 1 CUC to climb the tower, which I strongly recommend you do. From its top, you'll get a priceless view over El Capitolio and the old streets of Havana.
"My Mojito in La Bodeguita, my daiquiri in El Floridita"
Visit the favorite bars of Hemingway and, if in the mood, do as he says. The cocktails are overpriced, but they won't break the bank. Even if you don't want to drink, you can still go in and check them.
Explore Paseo del Prado
Just between Old Havana and Havana Centro lies Paseo del Prado, considered by many the most beautiful street in Havana. Hard to argue with this. The pedestrian zone in the middle used by local artists to display their work, the vintage cars passing by and the beautiful historical buildings from the 19th century that flank the street turn this piece of land into a miniature Cuba.
Revolution Square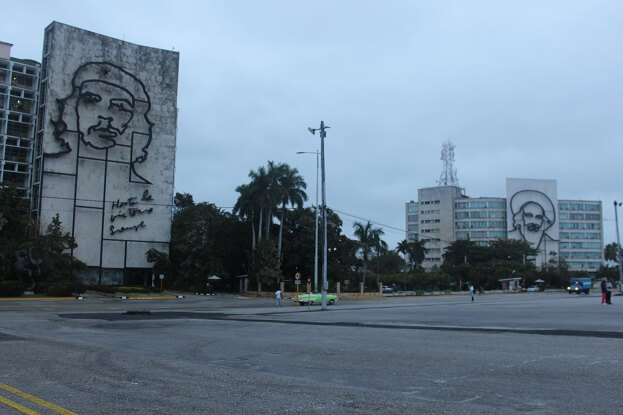 This is the main place where current festivities take place, under the eyes of the Cuban revolutionary figures of Che Guevara and Camilo Cienfuegos. There also stands an impressive monument dedicated to Jose Marti, another national hero, a writer that lived between 1853 and 1895. The square was not very animated when we were there and we had that entire huge place for ourselves to wander around and take photos.
Callejon de Hamel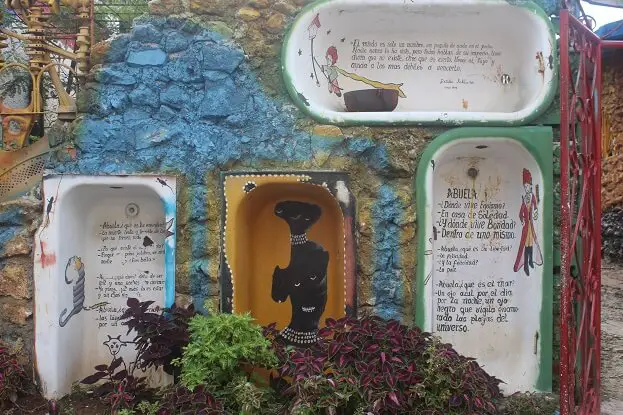 If you like street art, don't miss the opportunity to see one of the most popular streets in Vedado neighborhood, Callejon de Hamel. The colorful and arty murals were created by the local community to support disabled children. Even better, if you can get there on a Sunday afternoon to join a Cuban party taking place there. We were not able to, as we had to leave on Sunday afternoon and visited the street in the morning.
Cristo de Habana and El Cañonazo from San Carlos de la Cabaña
One of the evenings, take the ferry to the other side of the bay for 1 CUP and enjoy the best panoramic view over Havana from the feet of Cristo de la Habana. Afterward, take a look at Castillo de los Tres Reyes del Morro and Fortaleza de San Carlos. Take your time and stay for "El Cañonazo de las nueve", a military show that is part of Cuba's cultural heritage. Entrance to the castle for the show costs 8 CUC. You can also get there by taxi or bus through an 800m submarine tunnel.
Vedado
Vedado is less popular with short-term tourist, but equally interesting. In this neighborhood used to live la crème de la crème of the Havanese society, including the mafia. That's why opulent buildings will catch your eyes on the streets. If you get in Vedado, check also John Lennon Park and see if his statue still has the sunglasses or not.
Other sights
Parque Central/Parque de la Fraternidad – between Old Havana and Havana Centro, surrounded by vintage cars and expensive hotels
Bacardi Building – a colorful and strange looking building. For 1 CUC you can climb on its roof.
The Tropicana Show – expensive, but a major attraction
Cementario de Cristobal Colon
The Cigar factory and Havana Club Museum
Tips & tricks for your trip to Havana
Know before you go
Getting to Havana is pretty easy as there are many direct flight connections from all over the world.
Public buses only cost 0.5 CUP (2 cents). Ask around to find out which one takes you where you want to go.
Bicitaxis and cocotaxis will take you on short distances and should be cheaper than taxis.
The ferry to Casablanca costs 1 CUP and will take you close to the Statue of Jesus Christ.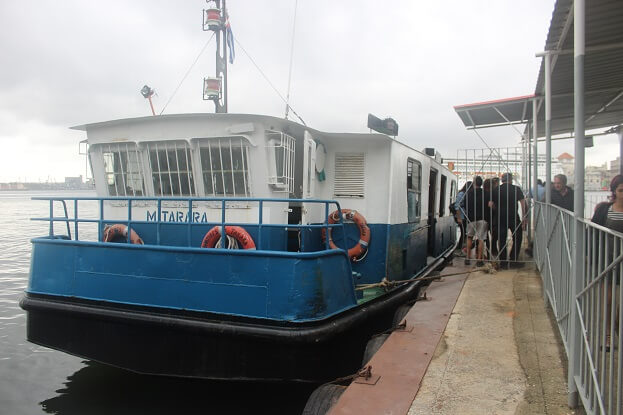 There is one Havana free tour that leaves 3 times a week at 10 o'clock from the National Theatre. The guide will tell you from the start that he expects at least 5 CUC from each person, but it is reasonable.
You'll need a lot of patience, as there is a queue for anything, especially for things harder to find.
Wifi can be found in some parks and costs 1 CUC($)/hour. Buy the wifi card in a shop. The locals will sell it to you for a double or triple price.
Go to the market and buy bananas, ananas, papaya, mango and guayaba in CUP.
If you're in for a beach, take the bus to Playa del Este.
Where to stay in Havana?
Tourists can either choose a pricey hotel (up to 500$) or a private room in a casa particular (15-30$). We chose the latter and were very happy with it. We stayed in two places, but I will only mention the one that really deserves it, both because of conditions and facilities and for the hosts. And the winner is…. Casa Nini that we found on Airbnb. The owner is from Sweden and she caters for tourists together with two good friends, Rodrigo and Franci.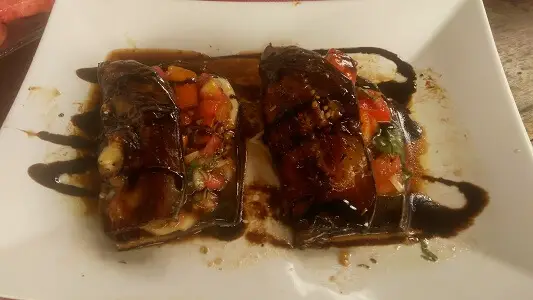 Only the owner speaks English, but you shouldn't have any issues. Rodrigo is the best cook we had in Cuba and breakfast is served on their roof terrace. Their breakfast goes far beyond the usual eggs and fruits. Their meals are cooked and you'll have troubles thinking about eating it all or leaving anything on the plate. The room is a mix of Cuban style with modern facilities. For us, it was great, especially as we weren't still accustomed to the Cuban lifestyle.
Where to eat in Havana?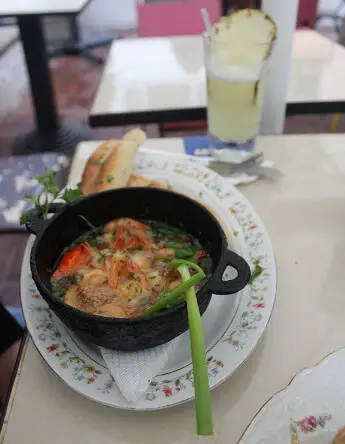 We haven't eaten anything to write home about in Havana, except for the breakfast. We've tried both state-owned restaurants and privately-owned ones, called paladares and ordered both homemade Cuban food and international. We've mostly enjoyed the atmosphere at the roof-top terraces on the side streets of Old Havana. Prices were usually decent and the food was fine. You might also want to try the "best" ice-cream in town in a plastic bowl at Coppelia. If it is crowded, you can also try it in Cienfuegos, as we did. Whatever you eat, don't forget to accompany your meal with a rum-based cocktail. Try as many as possible and decide which is your favorite.
Nightlife
Old Havana never sleeps, but there wasn't much clubbing there either. Casa de la Musica Centro was closed and you had to go either to Casa de la Musica in Miramar or a club Vedado for something more modern. If you like salsa, check the schedule on Havana Edge or Casa de la Musica in Miramar, the most exclusive area in town. This music venue hosts very popular bands and it is not even necessary to stay up late, as they also have a matinee. Tourists pay 10 CUC to enter, but they have fair prices on the drinks and snacks. It is a 15 minutes taxi-drive from the city center. We've been to a show of El Niño y la Verdad and enjoyed partying with the locals, even if the dancing space was almost non-existent.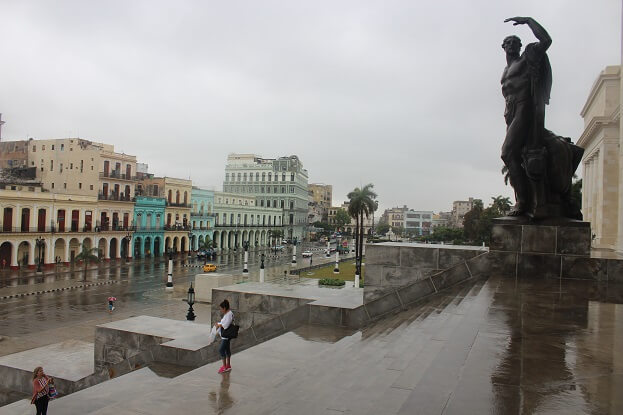 Thousands of tourists visit Cuba every year to enjoy its white sand beaches and turquoise waters, ride a vintage car and find out more about its culture, strongly connected to tobacco and rum. Most of them land in or decide to make Havana part of their itinerary and so should you. Spend as much time as possible on the streets, that deserve your entire attention. As per safety, Cuba is one of the safest countries in the world, but be careful with scams.
What's your favorite thing in Havana? Answer me in the comments!
Pin this article for later!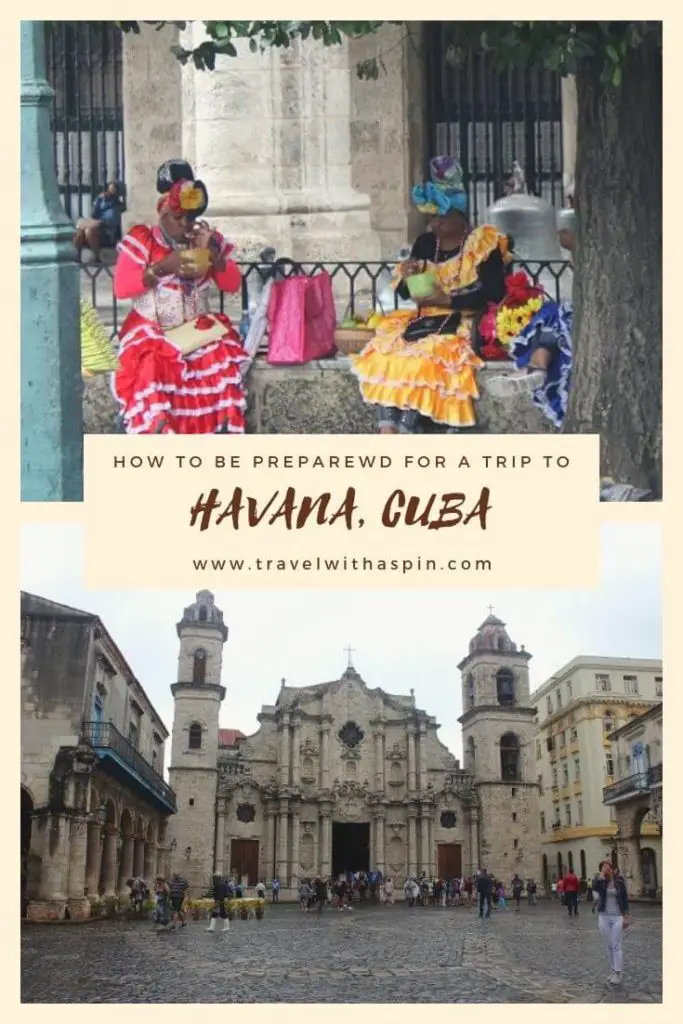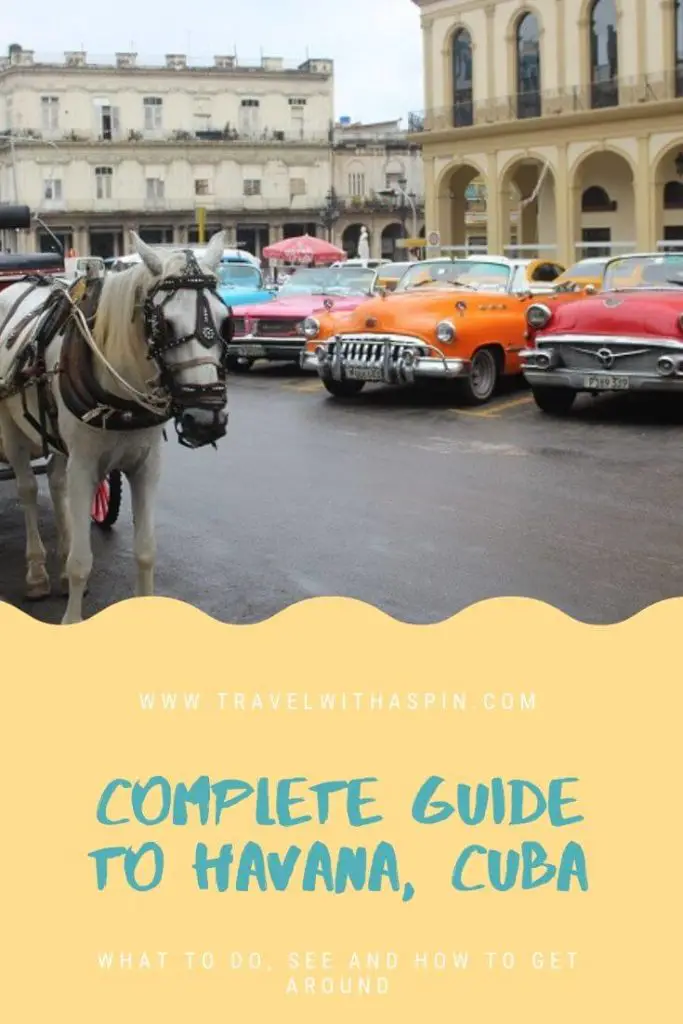 Travel With A Spin contains affiliate links. If you make a purchase through these links, I will earn a commission at no extra cost to you. Thanks for reading!