While planning our Cuba itinerary, I struggled to figure out if I should include the Bay of Pigs (aka Playa Giron or Playa Larga) in it. For starters, it is a little out of the way and there are not many Viazul connections. That's why not many people that have two weeks in Cuba choose to go there. Secondly, we would have enjoyed anyway a few days on the beaches in Varadero at the end of the trip.
Why did I choose the Bay of Pigs?
But I longed for more than turquoise waters and sun. I wanted to snorkel among fish and corals, as I fell in love with this in Jordan. At some point, I thought about going to Jibacoa instead of the Bay of Pigs, because the latter was farther out of the way. After that, I read that in January-February there was a higher risk of bad weather and a Portuguese man o'war invasion (similar to a jellyfish, but that stings even worse). There are fewer chances of bad weather in the bay, which was an extra point considering our usual luck for not so good weather (lower temperatures in Havana than in 6-7 years, tornado only few hours after we left, rain and strong wind all night long in Viñales, a cold front that led to man o'war invasion in Varadero). We decided to skip Jibacoa and go for the Bay of Pigs, despite the disadvantages.
Bay of Pigs: Playa Giron or Playa Larga?
Afterward, another choice had to be made: Playa Giron or Playa Larga? There is not much online information about them, not to mention comparisons. After doing some research, I found out that Playa Giron is a little larger and more lively than Playa Larga. Also, there are more snorkeling options close to Playa Giron, as Caleta Buena is not between the two villages, while Punta Perdiz and Cueva de los Peces are in between them. On the other hand, Playa Larga is closer to Fidel's crocodile farm and the Zapata Swamp. We were not that interested in the farm, but would have liked a trip into the swamp. Unfortunately, I couldn't find any to book online and it was not clear to me if I could book one in the village with the locals. This being said, we finally decided for Playa Giron. And, in the end, it was a great experience and we could easily count as one of the best Cuban beaches.
History of Bay of Pigs
In January 1959 Fidel Castro overthrew the dictatorship of Fulgencio Batista, the nation's pro-American president. In less than 6 months Castro began to reduce the American influence on the island and the relationships with the United States were deteriorating. Sugar purchases from Cuba were cut off and soon after an embargo was placed on all exports to the island except for food and medicine. In January 1961, Eisenhower broke diplomatic ties with Cuba. Castro's regime was considered a threat to the interests of the United States and CIA recruited and trained 1400 Cuban exiles to overthrow him. The brigade landed on the 17th of April 1961 in the Bay of Pigs, but although the invasion was supposed to be a secret, it turned out that Castro knew about it. The invasion was a disaster and the exiles surrendered in less than a day of fighting.
How to get to Playa Giron
If you choose to rent a car, you just need to follow the offline maps downloaded from maps.me. For those of you that choose to travel by bus, there are some Viazul connections that can be booked online and some that can't. That's why we went to Playa Giron from Cienfuegos and not directly from Viñales.
You can book tickets online from:
In reality, the schedule on the Viazul site is incomplete. You have some more options, both regarding the time and the location of departure once you get there, but the bus might also be full. Of course, you can negotiate with a taxi to get you there and if it is full, you'll pay the same price as for the bus.
Transport options in Playa Giron
By local bus
The cheapest option to visit the attractions in the Bay of Pigs is the Cubacan touristic bus that only costs 3 CUC/day. Its schedule is not the best, but it's good enough for the price. It only runs twice a day, once in the morning, to deliver the tourists, and once in the afternoon to collect them. At least this is what I've been told by both the locals and the bus driver. If you want to visit several sites a day, this might not be the best option, but there still is a chance.
The morning bus leaves at 9:30 am from Playa Giron to Caleta Buena and at 10 am returns and heads towards Punta Perdiz, Cueva de los Peces, Playa Larga up to the crocodile farm. Afterward, it returns to Playa Giron. If you are not interested in the crocodile farm, you can visit two places in one day, as we did. First of all, take the bus to Cueva de los Peces. You'll get there at around 10:15. At 12, the bus will be returning from Guama and can take you to Punta Perdiz, a more or less 5 minutes ride. In the afternoon, the bus leaves at 4 pm from Punta Perdiz and at 4:30 pm from Caleta Buena.
If you want to spend an entire day in one place, Caleta Buena is your best option. It is much better organized, as I will show you later in this article, and even the bus schedule allows more time there to enjoy the day, from 9:45 to 16:30.
By bicycle
Another possibility for going to Caleta Buena would be to rent a bicycle for 5 CUC/day. We chose this option as we had the Viazul bus to Trinidad at 5 pm and we wouldn't have had enough time by the local bus. There are around 8 km from Playa Giron to Caleta Buena. You can stop at various beaches along the way, watch the fishermen and look for shells. I wouldn't recommend renting a bike to Punta Perdiz (12 km) or Cueva de los Peces (18 km). They are farther and the heat makes even the 8 km ride pretty exhausting. Especially if you are not trained.
By bicitaxi
Another transport option that I've only seen and used inside the village are the bicitaxis, but I don't know if they would take you such a long way. As for the prices, for around 2 km, two people, we paid 2 CUC.
By taxi
I haven't seen any obvious taxi in the village. Surprising, as Cuba is full of them. I think you would still be able to find one as at Cueva de los Peces somebody asked us if we needed one.
Main attractions
Cueva de Los Peces is the best for seeing fish, both in the cenote and the sea across the road. In the sea, the water is deep right from the shore. There are a lot of fish and corals, mostly dead close to the shore and even more diversity if you dare to bypass the reef. The cenote boasts to be 70 m deep. There is no entrance fee, but there is only one restaurant where you can have a snack or drink. As we've stayed there for less than two hours, I don't know the prices. If you are afraid of deep water this place is not for you, unless you don't mind wearing some accessories.
Punta Perdiz features shallower waters close to the shore, but less diversity, at least there. Beware the sea urchins, lots of them. In my opinion, the location is not very nice for an entire day. You can enter for free, or choose the all-inclusive package for 15 CUC. There is more fish at Punta Perdiz, compared to Caleta Buena, but I would still go for the latter if I'd have to choose.
Caleta Buena is great for spending an entire day. There are almost no sea urchins, and even if there is less fish, you can snorkel in both shallow and deeper water. There is even a pool with bigger fish and you can swim with them. You can have a drink at any of the three bars and lunch at a restaurant. The all-inclusive package costs 15 CUC. If you get there by bicycle, they might request you 1 CUC "to keep it safe". A diving center is on site and snorkeling gear can be rented, just as at the other two sites. The prices are the same. Even when there is heavy sea, due to the natural barrier, you can still swim here. After 2 pm, a lot of groups will arrive there from Varadero and it won't be quiet and peaceful anymore.
Museo Girón is right across the Viazul bus station. There you can learn more about the historical conflict between Castro and the United States.
Playa de los Cocos is recognized as being the best of the two beaches in the village. I can't but agree with this. There are some cocktail and snack vendors that also play music. Enjoy the sunset while you sip a pina colada.
Playa Giron is the other beach in the village, not as picturesque as the first one, but nice for a walk. There is also a hotel on the beach, the only one in the village, Hotel Girón.
Where to sleep in Playa Giron?
If you don't want to pay the price for a hotel or want a more authentic experience, you can choose one of the many casas particulares. You can rent one on Airbnb in advance or wait to get there and check the ones left. There will be some people waiting for the bus trying to rent rooms to tourists. We went for the Airbnb option and were very happy with it. We stayed at Hostal Sur Caribe. Deisy was very knowledgeable about the area and the bus schedule and also helped us rent the bicycles.
If you did not use Airbnb until now and want to give it a try, you can use this link to get a 40$ discount for your first room.
Where and what to eat in Playa Giron?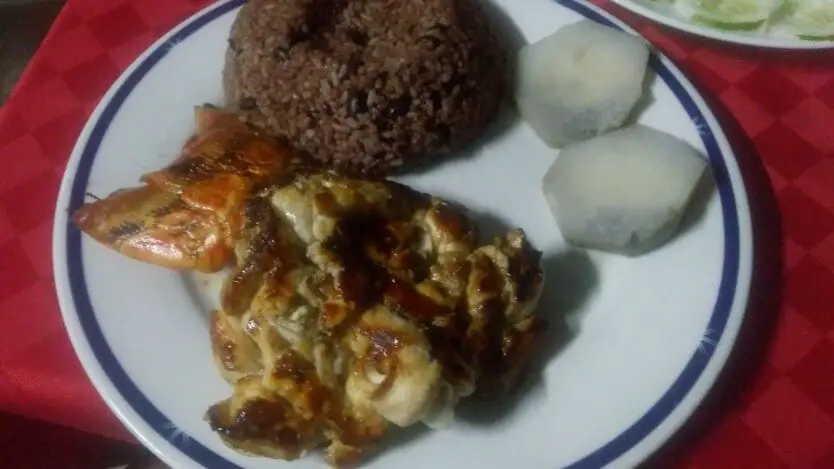 We had breakfast two times at our casa particular. Both times it was great and varied a little. The "venturitas de pan" cooked by the mother of our host are hard to forget. It was the second best breakfast in Cuba, after the one in Havana, but that one is very hard to compete with.
The rest of the meals we ate at Restaurant Cocodrilo. There are only two restaurants in the village, one opposite the other. The other one belongs to a Russian and the prices are slightly higher there. Following our host's recommendation we got to Cocodrilo… and returned for other meals. These were the best dinners we had in Cuba and the value for money was awesome.
Where to dance in Playa Giron?
There is an inside club in the village, next to the Viazul station. We've been there on a Friday evening. It is supposed to be open from 11 pm to 2 am, a rather curious schedule. The locals seemed to enter for free, but for the tourists it costs 2 CUC to get in. They were playing mostly hip hop, reggaeton and house and there were not even 20 people in the club by 00:30. The real party was at an outdoor bar, right next to the club, where the entire population of the village was gathered, drank beer and talked. There wasn't much interest in the club, maybe because it was indoors. Another reason might be that at the bar you got wifi.
Do I recommend Playa Giron?
While we were in Cuba, the fatigue and the weather gave us second thoughts. We even talked about canceling the room and the bus tickets we had booked.  I'm grateful that we didn't as we would have missed some of the best moments of the entire trip: amazing weather, great food, nice people, beautiful beaches, snorkeling with fish and corals and riding a bicycle to the beach for the first time. We couldn't have made a better choice. Besides, as we found out later on our trip, there was indeed a man o'war invasion on the northern coast. It has even reached Varadero. In the end, I'm glad I gave it a chance.
I hope this article gives you a better insight into the options you have at Playa Giron and can better decide whether it is for you or not. If you have less than 10 days in Cuba, you will possibly want to skip it. Otherwise, I would totally go for it. Besides, after experiencing Varadero and deciding that the Cuban all-inclusive style is not the best option for us, I would replace it with Playa Giron, where we had a great time.
*1 CUC = 1.10 EUR = 1 USD – Read everything about budgeting for Cuba.
Would you visit the Bay of Pigs? What about Playa Giron? Answer me in the comments!
Pin this article if you enjoyed it!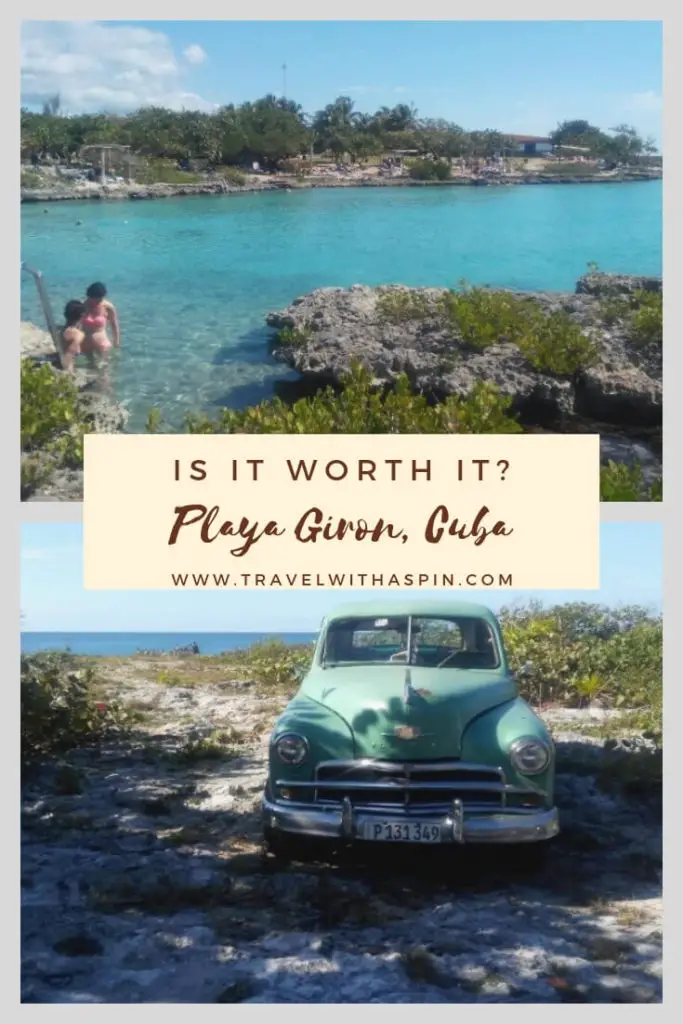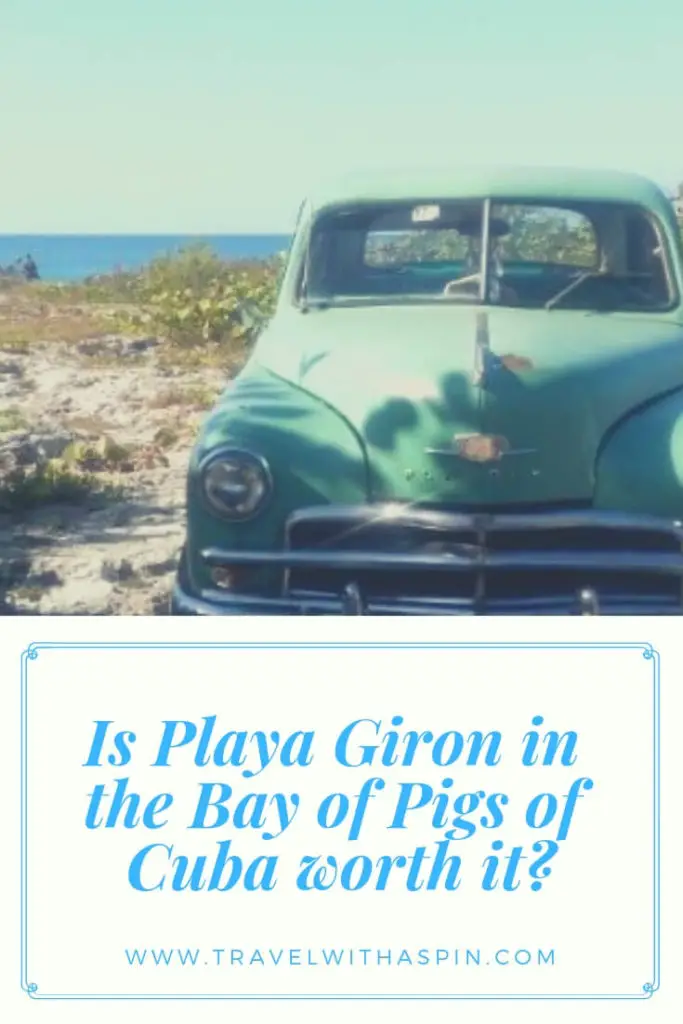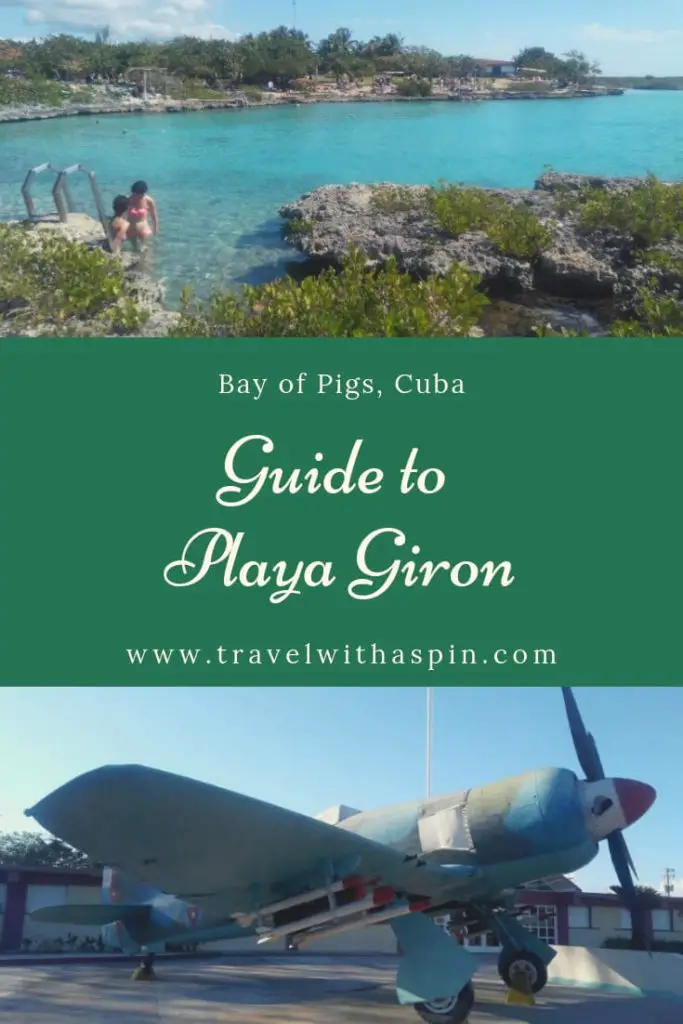 Travel With A Spin contains affiliate links. If you make a purchase through these links, I will earn a commission at no extra cost to you. Thanks for reading!