As soon as I entered our hotel of choice in Varadero I felt like I had been plunged directly into a scene of Dirty Dancing. I had been told previously to expect more of a 70ish atmosphere, but I did not quite realize what it meant. Lots of families, young and nice staff, everything at your disposal and the "retro" decor. Unfortunately, this time Baby was put in a corner and very well hidden.
What is Varadero?
Varadero is the largest tourist resort in Caraibe. It covers Cuba's 20km long and less than 1.2km wide Hicacos Peninsula. Tourists go there to relax on the beach, bath in the clearest blue waters and engage in nautical sports, especially kite-surfing. Until 2008, Cuban people were not allowed to enter. You might have heard stories of Cuban waiting at the door of the hotels and asking for soap and shampoo. It's a good thing those days are over.
Varadero has a western region that includes the downtown, with local residents, Cuban holiday-makers, day-trippers, backpackers, cafes, restaurants, casas particulares and budget hotels that look as they kind of survived a war. In the east are the mega resorts, wristband-wearing foreigners from around the world and wealthy Cubans, malls, and golf fields.
Varadero – 

a controversial destination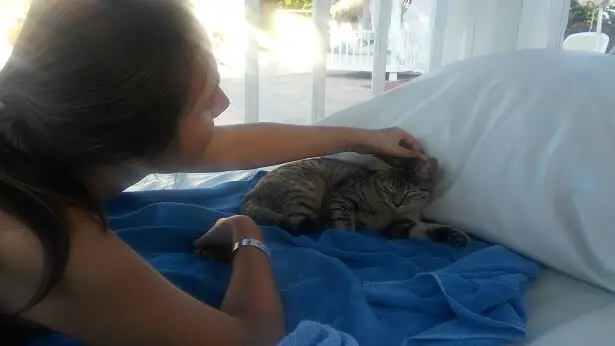 Varadero is like an universe on its own. It even has an airport. Getting out of the hotel zone without spending a decent amount of money is quite a challenge. Cubatur organizes day-trips to Havana, Trinidad, Peninsula Zapata, Viñales, Cayo Blanco, but they are pretty expensive. The other options would be to rent a car, share a taxi or take the Viazul bus. However, in any of these cases, I can't see the benefit of being accommodated in Varadero for a week or two. I would recommend to stay a few days in Varadero and move on.
Do not get me wrong! Not everything in Varadero is bad. The beach is quite spectacular and has all the features one might ask for: white sand, turquoise waters, palm trees. There are worse places to be stuck at. What else could you ask for? Oh, yes, no other people around. Well, this wish will not be accomplished in Varadero. Even if there is a long stretch of beach, it can get relatively crowded and the hotels lined up next to each other might not be what you expect from a relaxing vacation on the beach. As there are so many people, the beach is not as clean as you'd dream of either.
I don't think it's bad that people go to Varadero, but I do believe it's a pity that so many of them fly in and out of Varadero, not taking the time to discover more than just palm trees and hotels. They don't get to see the culture, history, architecture, and nature that Cuba really stands for.
How do you get to Varadero?
If you don't get there by plane, most probably you'll travel by bus or a shared taxi. The trip from Havana takes 2-3 hours and from Trinidad 5-7 hours. The bus will drop you in the opposite part of the town from the hotels. You will need to get a taxi if your hotel is not at the beginning of the hotel zone. The drivers usually asked for 10CUC to go to Bella Costa (about 5km), but we managed to get there for 5 euro.
Accommodation
You get to choose between all-inclusive hotels, where hardly any-planning is required, and casas particulares. Keep in mind that hotel standards are considerably lower in Cuba compared to Europe. For budget details please read the dedicated article.
What did we choose?
We spent 3 nights in a four stars all-inclusive resort, Bella Costa, recently included in the Iberostar chain. Sadly, I did not take many photos, as I felt like there wasn't much to take photos of, better relax.
Our room was in the main building, spacious and had a balcony with a beach view. One could admire every minute of the sunset from there. The complex is nice and large, with a pool, beach, jacuzzi and kids area (closed).
The beach
The Varadero beach is public at least until Bella Costa. You can walk along the entire beach and no one will ask you anything. We've even asked a member of the staff which confirmed this. You'll see people wearing different colors of wristbands or even none.
When we were in Varadero there was a man o'war invasion that had been going on for three weeks. Do not touch them, as it will be painful! Not even the birds get close to them. There weren't many people in the water, even if it wasn't very cold. Almost all the hotels offer equipment for waters sports, but we did not try them.
Food
When you think about all-inclusive, you think of decent food and drinks all day long at your fingertips. Cuba, in general, is not a destination for foodies, but even after almost two weeks in, I had higher expectations. The food was low-quality and repetitive, partly recycled and partly fresh. There were no fresh juices, which is rare for an exotic country. I mostly enjoyed the freshly baked pizza, the prawns cooked in front of you and the morning omelet, also cooked in front of you. In the afternoon, lunch was served on the terrace with sea view.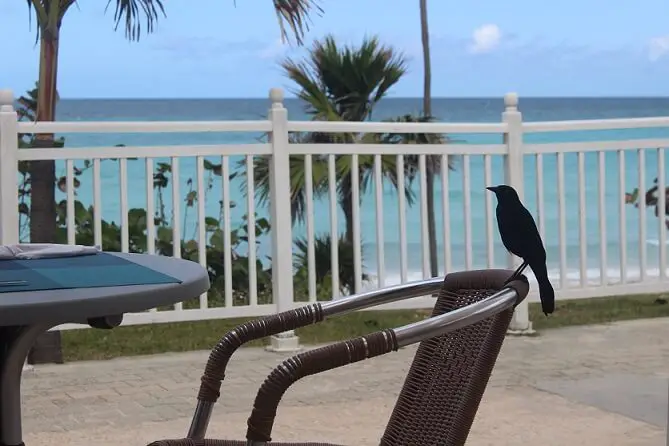 We've also been to an à la carte restaurant, just for the sake of checking what it was like. There should have been 3 restaurants, but only one of them was open and only for one evening. The truth is that the food was the same as in the buffet restaurant anyway, from antrees, to soup, main dish, and dessert but trimmed on a plate. The dishes weren't fresh either. This might be an issue of the hotel, but when choosing it I've read a lot of reviews and the complaints regarding food were mostly the same in all 3 and 4 stars hotels.
Drinks
We did like the cocktails. There were so many variations that we did not get to try all of them in three days. By the end, I couldn't drink anything sweet anymore or I would have thrown up. But they were all delicious. A few years back, a friend of ours had been to Varadero and happily told us about the rum dispenser in the reception area. We got there a little too late for this, but the bartenders still do not skimp on the alcohol.
Staff
The concierge, receptionist, waiters, and bartenders were nice, smiling and helpful. You don't have to tip unless you want this. Varadero is the only place we've been in Cuba when you can have a conversation in English.
The only staff I didn't like were the animation team. They were anything but entertaining. Officially there was an entertainment schedule, both on the beach and by the pool, but nobody respected it. When I asked about it, I was told it was low-season and they were only doing the pool entertainment. Why did they say otherwise in the reception in this case?
However, not even the pool schedule was respected. Only the darts and bingo competitions were held every day. Bingo was funny the first time, but we got tired of hearing 3 days in a row the same joke: "Bring me the cardboards and the beans back. I need the cardboards for tomorrow and the beans to cook for dinner". On the second day, several of the girls at the pool went to the entertainment team and asked for the salsa lesson and they did it. Shouldn't it have been the other way round? What about the rest of the entertainment listed? Nothing. The staff was not even trying to entertain the guests. It was just as boring as the beginning of Dirty Dancing and it stayed like that.
There was also a kids zone and a kids' entertainment schedule, but the area was closed. The children just stayed by the pool with nothing to do.
Did it get any better in the evenings? Were there any dirty dancing parties? There was a half an hour show each evening after dinner in the disco. Of course, they were not Patrick Swayze, but the shows were nice, even if 80ish. When they ended, the chairs were not even gathered, even if it was a disco. They didn't want us to stay any longer apparently. We spent our evenings in the lobby playing pool, listening to the piano and having really good cocktails.
What else can you do in Varadero?
There are not many things you can do outside the hotel in Varadero. Probably the straightforward activity would be to go shopping. There is Hicacos Commercial Center in the center of Varadero and several malls in the hotel zone. As a matter of fact, the next stop after Bella Costa is a mall. If you'd like something more traditional, try one of the 3-4 souvenir markets. You could buy some pearls for a good price. The biggest one is at the end of the route of the bus. On the way there, you'll also pass by Casa del Ron, Casa de Chocolate and Casa del Habano. Take advantage of the opportunity to taste other varieties of rum besides Havana Club and decide which you would like to take home.
You can also check the dolphinarium, Varahicacos Ecological Reserve, Josone Park, the port and Ambrosio cave.
Transportation in Varadero
There are touristic buses than run from one end of Varadero to the other one and stop at almost every hotel. There is not much to see in the city itself, but it is a cheaper transportation option from the center of Varadero to your hotel. The ticket costs 5CUC/day/person and you can use it on both red and blue buses.
What can you do around Varadero?
There are some nice places close to Varadero. I would have liked to visit Coral Beach and Neptun Cave in Carbonera. They are closer to the Varadero Airport than to Varadero. Maybe you would be able to negotiate with the Viazul driver. I didn't know it would go so close by. There are some day-trips organized by Cubatur, but they are expensive and none of the trips included both of them. You can also get a taxi, but it can get quite expensive through the hotel. If you're staying in a casa particular, the taxi will cost you less and you won't lose the food and drink you've already paid for.
What would have made our stay in Varadero better?
I wished for something that wouldn't have made me feel I was missing out on all the Cuban culture. The salsa lessons, the games and the Spanish lessons included in the entertainment would have been nice. I would have added some Cuban theme nights after the shows. The people were already there and did not go to sleep early. Instead of laying around in the reception or playing pool, we could have done something more interesting. It left me wishing to discover that secret club with talented dancers. All-inclusive doesn't have to be boring.
One of the most popular questions, when you come back from Cuba, is whether you've been to Varadero or not, followed by "should I go to Varadero?". I think that the real question is not whether you should go or not, but where to stay and for how long? If you're still not convinced by the destination, but want a mix of paradise and history, check Playa Giron. It might just be your piece of cake.
Go and have the time of your life in Cuba! As always, I'm looking forward to reading your opinions in the comments.
Pin this post for later!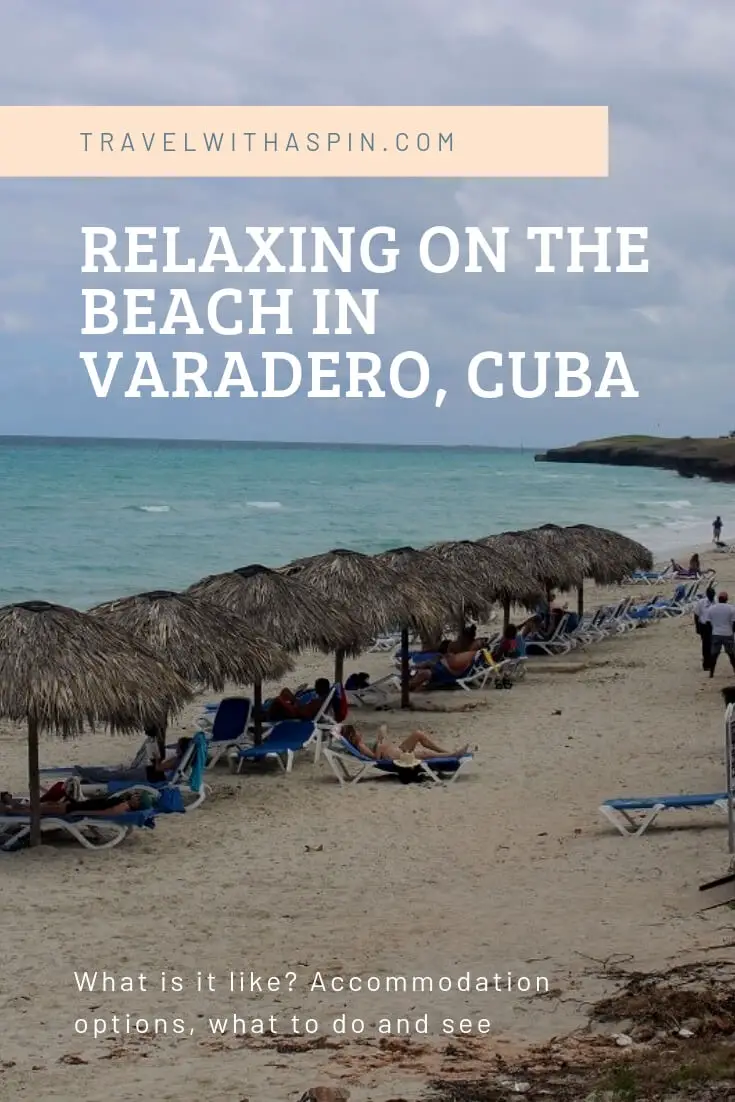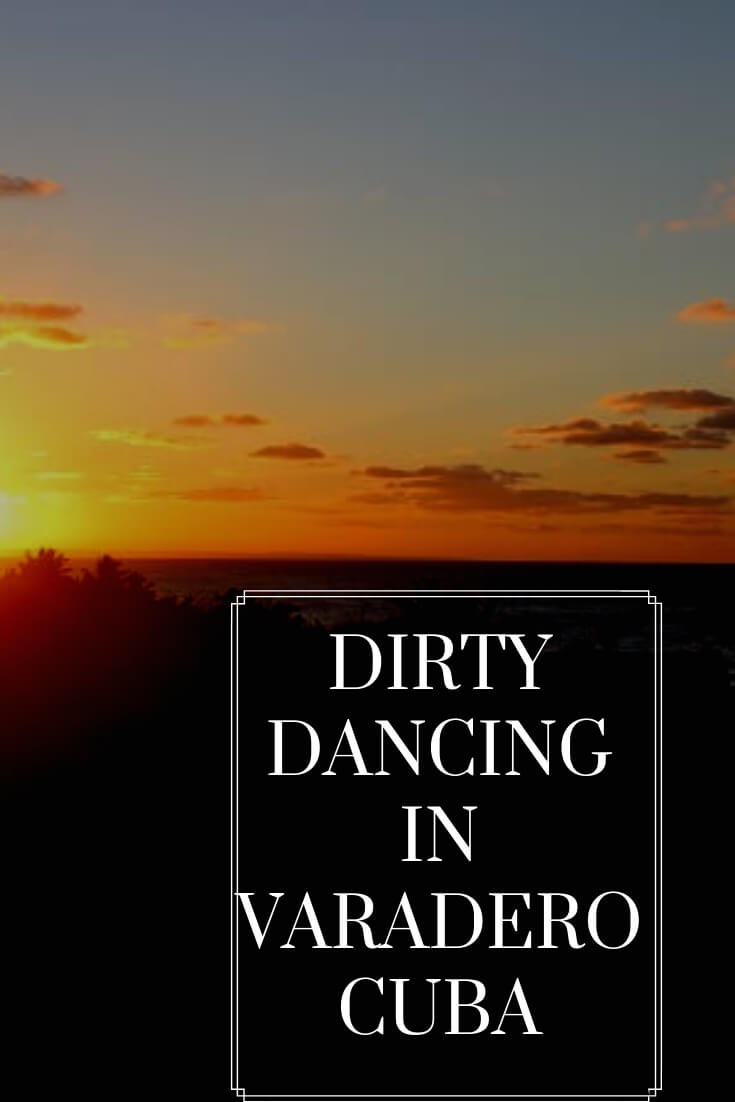 Travel With A Spin contains affiliate links. If you make a purchase through these links, I will earn a commission at no extra cost to you. Thanks for reading!