On our 15 days tour in Cuba, one of the main stops was Trinidad. The little town in the heart of the island deserves a distinct article and at least one day of your time. Having more time to wander around and knowing that there is The Natural Park Topes de Collantes close by, we really wanted to go on a trip to one of the waterfalls there. We chose the most popular trip among the tourists in Trinidad, to Salto del Caburni. Luckily, this time the weather was nice.
Trips and prices from Trinidad, Cuba
We spoke with our host in Trinidad and, after making a few calls, she obtained the following prices: 90 euro/2 persons for El Nicho (said to be the most beautiful waterfall in Cuba – it is cheaper from Cienfuegos, 70 euro/2 persons), 35 euro/person for Vegas Grande Waterfall (more interesting, according to the host) and 15 euro/person for the most popular trip in Trinidad to Salto del Caburni. I don't know whether she would have got a commission, as she called in front of us and looked for a smaller price.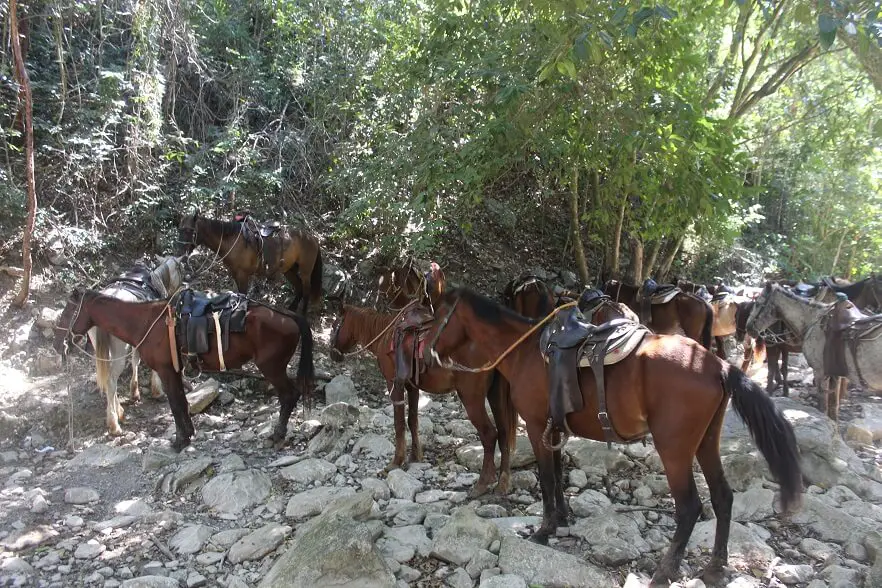 Next day, on the streets of Trinidad, we were assalted with offers for Salto del Caburni by horse and by carriage for 10-15 euro/person. No matter the price, the itinerary is the same for everybody and the path will be full of other horses and carriages. As we only wanted to see the area and whichever trip we would have chosen, it would have been new to us, we chose Salto del Caburni. We weren't disappointed.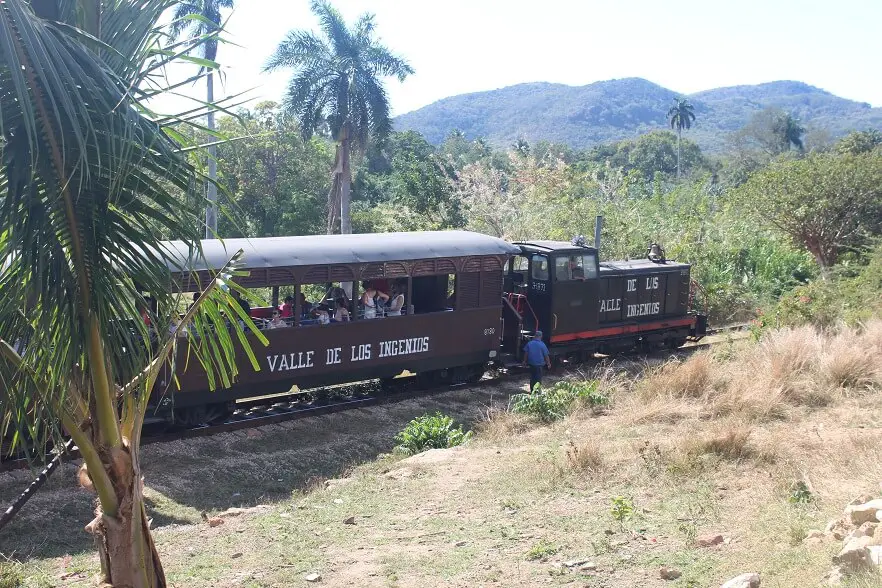 During the trip to Salto del Caburni, we also found out about a trip by train through the Valle de los Ingenios. The train stopped at the terrace where we ate and the people looked happy with it. The meal was not included in the price. I don't know much about the itinerary, but the guide told us that it encircled the mountain. The train only runs once a day, in the morning. You can find tickets at the Teleferico in Trinidad. You can book them directly there for around 10 CUC. If you book them through an agency in town it will get much more expensive.
The trip to Salto del Caburni starting from Trinidad, Cuba
What do you need to know about the trip to Salto del Caburni?
Next morning, at 9 o'clock, we met the one that had sold us the trip and he delivered us to the owner of the horse and carriage. The path is 6-7 km long each way and pretty bumpy. If I were to go again, I would choose to ride, even if I had only ridden once and I did not enjoy it much. Our guide only spoke Spanish and I had to translate what he said. If you don't speak Spanish, make sure that your guide talks your language of preference when you negotiate the trip.
The path, even if short, will take you a little into the Valle de los Ingenios, at a farm that makes sugarcane juice, a coffee plantation and, finally, to a 62m waterfall with water pools in which you can swim. Behind the upper one, there is also a small cave. Before reaching the waterfall, there was a paying point, but the guide paid for the entrance, we didn't pay anything else and I don't know how much it cost.
Attractions on the path
As we left the town, we were shown two buildings in which once upon a time the slaves stayed and the mansion of their landlord. They were degraded and not that interesting. However, it is a good moment to talk to your guide about the area and the day to day life in Cuba.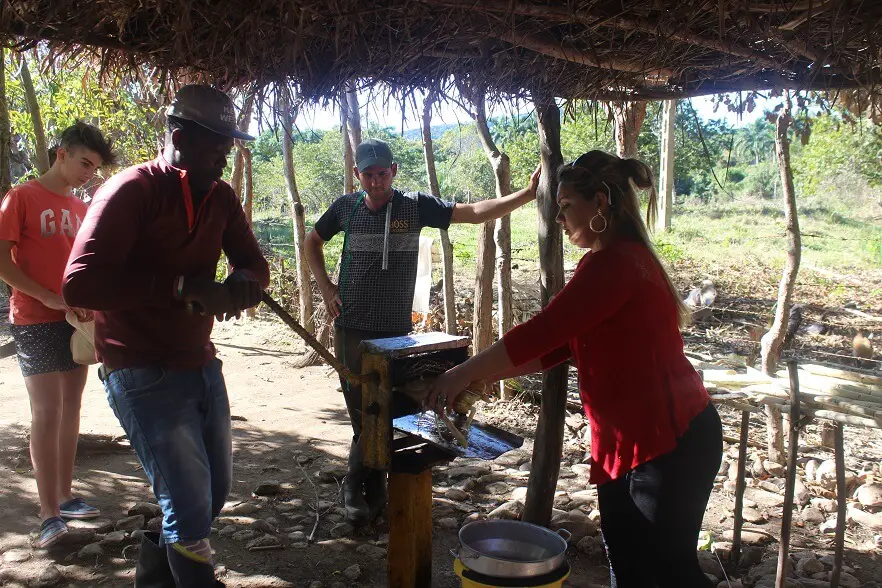 Our first stop was at a sugarcane press in order to taste a glass of natural juice. As the first press on our way was broken, we headed to the next one. However, I mention it because it played a major role on our trip. At the second press, we were given sugarcane juice without rum (2 CUC) and with rum (3 CUC). We only bought one glass as we had drunk sugarcane previously in Sri Lanka and it was far too sweet for us. This time it was not like that. Possibly, it had some lemon in it.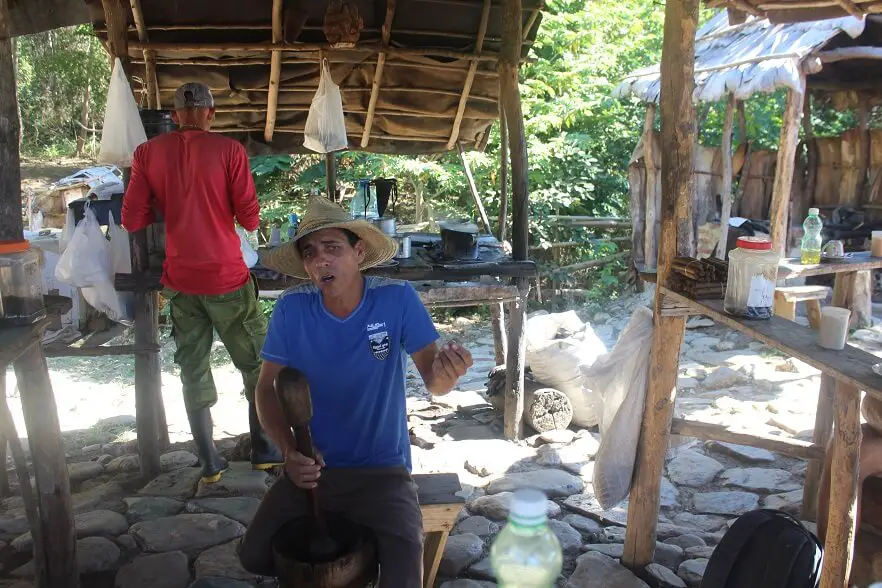 The second stop was at a coffee farm. We were told a short story about coffee and we were shown a plant of robusta coffee combined with Arabica. Next, we were invited to coffee and tobacco for 2 CUC. The owner made a show while preparing the coffee, especially for tourists, not at all authentic, but funny.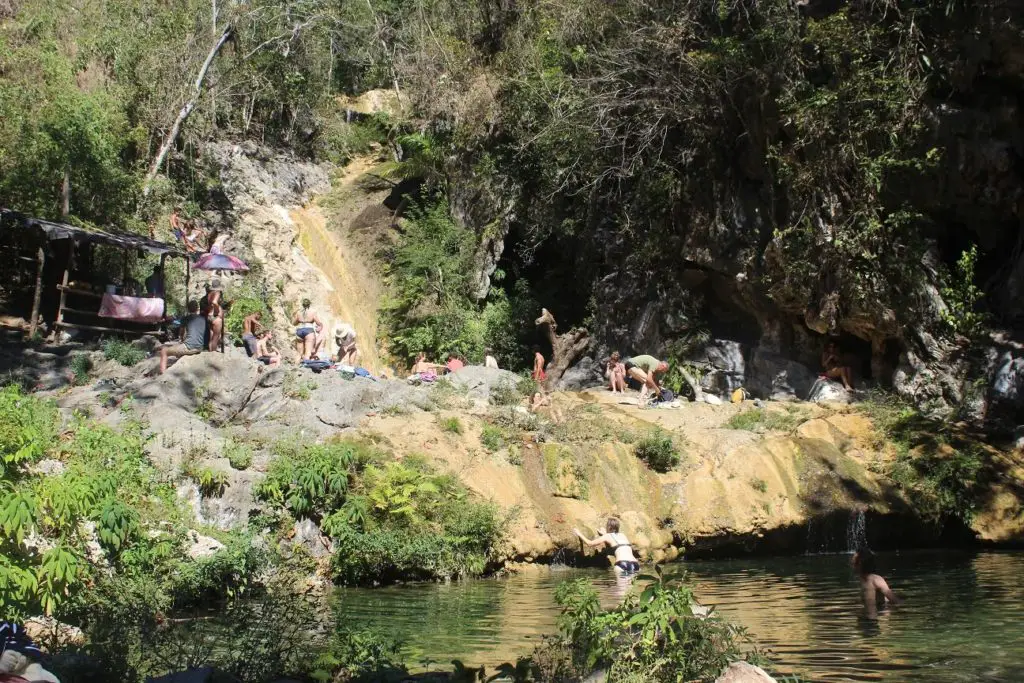 At the end of the path, a 62 meters high waterfall with two pools will be waiting for you to swim with the fish. The waterfall is not spectacular, but it was great after staying in the sun for so long. The water was not extremely cold and the surroundings were nice. Our guide let us stay as long as we wanted. Other set an hour beforehand.
What you can eat
On our way to the waterfall, we stopped at a restaurant where a 7 months old pig was cooked. The man there had woken up at 4 o'clock, in order to slow cook it for 8 hours. It had to be ready for the tourists that got there by train at 13:30. If you want to eat there, you have to let them know on your way to the waterfall and eat on the way back. The meal costs 10 CUC and the drink 2 CUC. For my part, if I would repeat the trip, I would absolutely skip the restaurant. The food was dusty and did not look fresh. Not even the fruit. We did not enjoy it.
About unforeseen events
While going back to Trinidad, one of the wheels of the carriage broke. As we didn't want to overdrive the horse, we descended and walked. This was the situation when we got back to the first sugarcane press I told you about. Its owner insisted to lend us his carriage, even if we didn't mind walking. The guide was sad and insisted to exchange it. We waited for him there for 20-25 minutes. In the meantime, the girl at the press made an offer to show us the plantation, which we happily accepted.
Accompanied by our new guide and her little dog, we saw what yuca, malanga, boniato look like.  She also showed us a tamarind tree, lime, guayaba, passion fruit, avocado, coconut tree, banana tree and other fruits that I could not associate with anything I had seen before. We were also asked if we wanted to taste the sazon cooked by the mother of the family for lunch and to meet the pigs, but we didn't want to bother more than we already had. They also gave us passion fruit juice which we liked.
We got a mamey, the national fruit, and a guayaba, the sweetest we ate in two weeks on the island, as a gift. Mamey is very sweet and tastes more like pumpkin cooked in the oven. I'm not a big fan of any of them, but it was an interesting experience. I knew about this fruit, but hadn't seen it. It has a brown glossy kernel, similar to an amulet. From what they've told me, you are not allowed to get local fruit, vegetables or kernels out of Cuba, but somehow nobody noticed the kernel and it is now in Romania.
Our little guide worked in the animating team at Las Cuevas Hotel in Trinidad. She was very nice, as you can see.
But…
There is always a but. This time I was disappointed by the fact that there are so many exotic fruit on the island, but we, as tourists, don't get the opportunity to know them all. Every day we got the same pineapple, banana, guayaba and papaya, sometimes a coconut or mango juice. If our carriage hadn't broken, we wouldn't have known anything about the diversity on this small island. The markets are usually very small and poorly supplied. I'm not happy with the fact that the carriage broke, because the guide was a really good man and he probably lost some money in order to fix it, but I'm glad that we got to see the farm and spent some time with the family there.
When we got back into the center of Trinidad, it was already 3 pm. We had spent more than half a day in the nature, learnt new things and had two pleasant guides. The trip by itself is a nice way to get out of the town and get to know the nature in Cuba. If you only have time for a half a day trip, Salto del Caburni is a good choice. However, I would try to tip the guide in order to also include a walk into the plantation on the way.
What do you think about the trip to Salto del Caburni? Answer me in the comments!
Read the article later! Save it on Pinterest!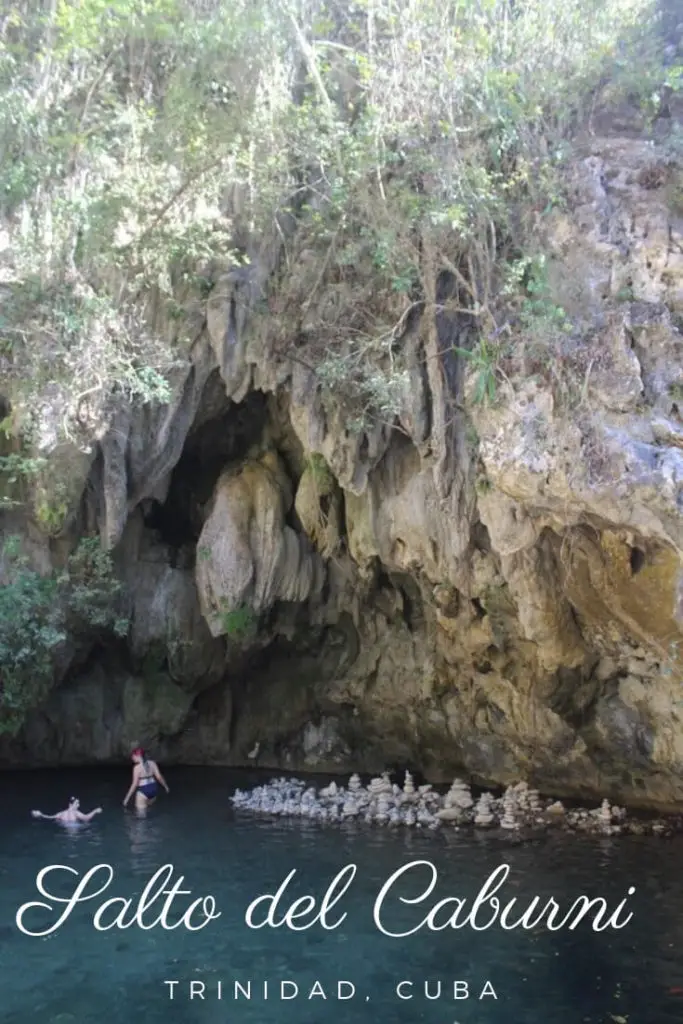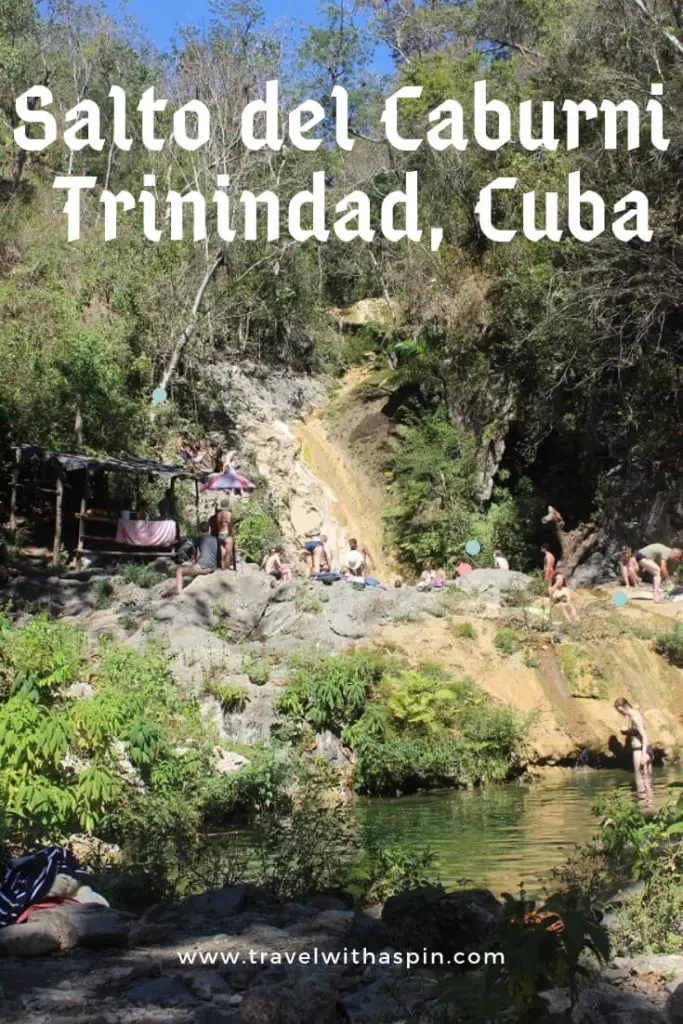 Travel With A Spin contains affiliate links. If you make a purchase through these links, I will earn a commission at no extra cost to you. Thanks for reading!