The city of Wolfsburg is usually associated with cars, especially with Volkswagen, that owns there its largest factory. Autostadt is its main attraction, without any doubt, but you will also find some other interesting places in the city. It can be easily reached from Hanover as a day trip. However, if you would like to stay more, the city is more than ready to accommodate your needs and desires.
Autostadt
Autostadt, the main attraction in Wolfsburg is a real city of cars in the heart of Germany. Even if you are not really passionate about cars, you will still find something that will appeal to your interests. For me, it was the Beetle, or better said the Beetles, several, different models. I've also enjoyed the entire exhibition in Zeithaus, that comprises 130 years of the history of the automobile. Seeing restored vintage cars and futuristic models that exceeded imagination. Another highlight of my trip to Autostadt was in the Volkswagen Commercial Vehicles section, where I had the opportunity to check a California Ocean vehicle.
There will be for sure something that will grab your attention. Besides, this will be a great opportunity to impress the guys in your life. A city of cars has probably been on their list since they were little boys. There is a pavilion for each brand in the Volkswagen group: VW, Audi, Porsche, Seat, Skoda, Lamborghini, Bentley that promotes them in surprisingly different ways. Aside Lamborghini, which offers a show every 20 minutes, you can walk freely through the pavilions and check the cars on display. I did not really enjoy this part, but for car lovers, it can be really time-consuming. Don't ruin their happiness, you can still find something for you.
Another major attraction consists of the two towers where the cars ready to be taken by their future owners are kept. It costs extra, but they can be visited and you can even enjoy a robot-guided ascent of the 20-story car towers. Of course, driving courses for adults and children are available, if you book in advance. Also, keep in mind that if you want to take a tour of the factory, you have to visit Autostadt on a weekday. Tours of the world's largest auto factory are free.
History fans, you should know that the first stone of the factory was laid by Adolf Hitler in 1938. He wanted a cheap car for German families and found in Ferdinand Porsche the right person to make his wish true. The first car that has seen the light of the day here, was, of course, a Beetle, in 1939. The millionth Volkswagen was also a Beetle that you can admire in the Zeithaus. If you are interested in statistical aspects or "did you know" subjects, take your time in the main hall. Each globe under the glass floor reveals a different aspect about cars. You can find out different translations of the word "car" around the globe, how many cars are sold in different countries, or which is the favorite model.
Autostadt also features a 5-stars hotel, The Ritz-Carlton with its 3 Michelin stars restaurant and several other cheaper restaurants. As for souvenirs, you will find plenty of interesting miniature models of your favorite cars or even a Christmas globe Beetle, my favorite 🙂
A normal 1-day ticket costs 15 euro, but there are also other offers and morning or evening special prices. Make sure to check in advance. The one that I chose was the one for 19 euro, that also included an one hour overview tour and a boat tour. Unfortunately, an English tour was not available anymore, as I got there at about 1 pm and I had to take one in German, which I did not fully understand because the lady was speaking with the speed of light.
Check at the reception if English tours are still available and if you can take both the overview tour and the boat tour as they might overlap. I don't understand why this happens, as there are only few tours a day, so they could at least not be at the same time, but unfortunately, the schedule does not seem to be made in the best interest of the customer. This is the only thing I did not like about Autostadt. And the fact that the girls at the reception were rather grumpy.
Automuseum Volkswagen
If you have not seen enough cars already, you should also check Automuseum Volkswagen, dedicated only to this brand. It is located on the south side of the Mittelland Canal opposite the Allerpark. There you can also track the entire history of Beetle and find out the stories behind the most beloved models. I'm not into cars,  I don't even own a driver license, but I can't help to like this one.
Wolfsburg Castle
You are in Germany, so there are beautiful castles everywhere and Wolfsburg is no exception to the rule. Wolfsburg Castle dates from the 14th century. Although its style has changed a lot since it was built, it is still beautiful and worth a visit, as well as its gardens. Inside it, there is a history museum of the city and of the castle.
Phaeno Science Center
Phaeno Science Center has not only an interesting architecture, but it is also an interactive museum. There adults and children can learn scientific concepts related to Life, Vision, Energy, Dynamics, Mind and Mathematics. Everything is learnt in a fun and playful manner.
Wolfsburg is a city that any passionate about cars should see at least once in his life. But even if cars are not your thing, as they are not for me, you will still be able to find something interesting in Autostadt and in the city.
Did you visit Wolfsburg? What was it like?
Save the article for later!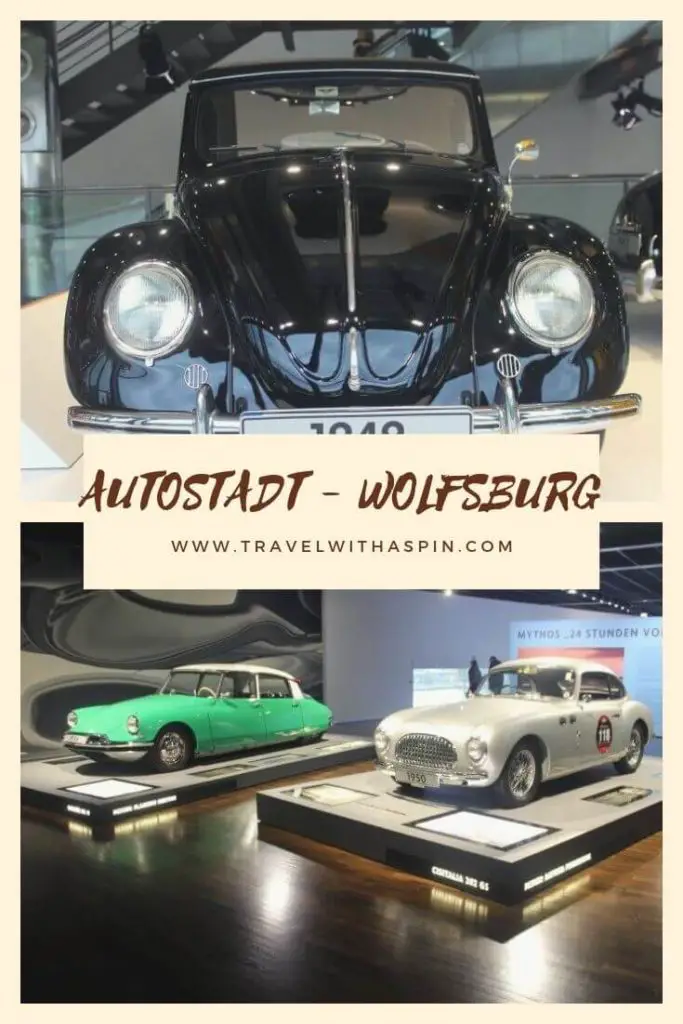 Travel With A Spin contains affiliate links. If you make a purchase through these links, I will earn a commission at no extra cost to you. Thanks for reading!