The Christmas markets in Germany are famous around the world. Four weeks before the great celebration, the city centers across the entire country are covered with lights and ornaments. Nuremberg is one of the first destinations that come in one's mind when planning a trip to the Christmas markets. No wonder, as this city has not one, but three of them. Also, its proximity to other cities with fabulous markets makes it a great choice.  I've just returned from visiting the Christmas markets in and around Nuremberg and want to give you some insights and spark your wanderlust. Unfortunately, the weather was not at its best. It rained three days out of four almost continuously. I feel a little responsible for this as I wished for a little snow before I left. I kind of got it…, just that it was too warm and it became rain.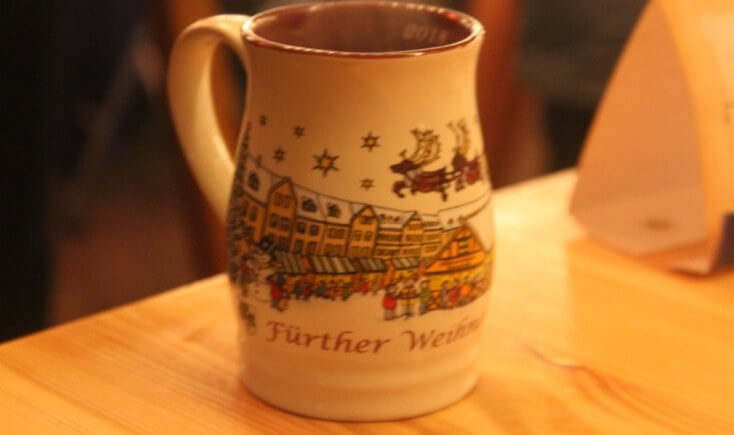 First if all, before making a short round of the markets, you must be informed that most of them close very early in my opinion. If you think that you are going to party until midnight, you are wrong. Most of them (except Nuremberg, to be more precise) close at 19:30-20:00. The ones on Nuremberg at around 22:00. I did not know this and was surprised. You should be aware of this when planning your itinerary.
If you buy a drink, you will also be requested a "pfand" for the cup. This varies between 1.5 euro in Rottenburg ob der Tauber and 3 euro in Nuremberg. You can return the cup and get the money back or keep it as a cheap souvenir. We now have our own collection.
1. Christkindlemarkt (Nuremberg)
This is the largest Christmas markets in and around Nuremberg. It spreads in front of the Frauenkirche and around the Schöner Brunnen. This only adds to its charm and brings more color. You can also see the market from the tower of the church for 3.5 euro between 17:00 and 21:00. The locals take this market very seriously. You can even find a map of the wooden stalls here.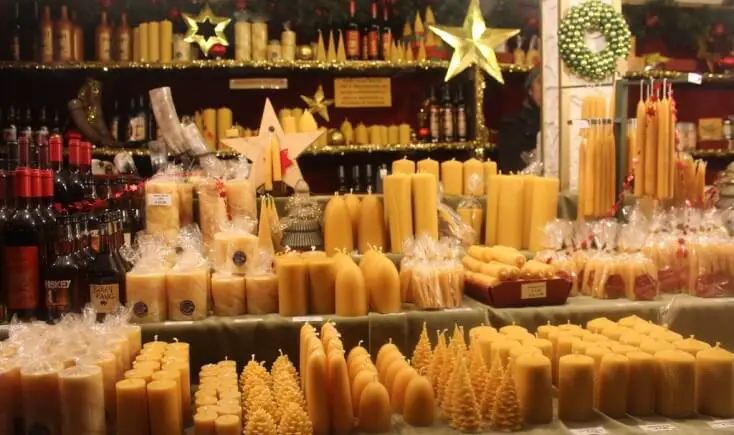 You can find traditional products like the Nuremberg bratwurst, a sausage so thin and small that it could fit into a keyhole. Which it actually did in medieval times. When a family was prohibited to exit a house for different reasons, they were fed with these sausages.

Try also some traditional gingerbread and Feuerzangenbowle, which is mulled wine with caramelized rum. The most typical souvenir is a Zwetschgenmaennla, a handmade little man from dried plums and nuts.
2. Kinderweihnacht (Nuremberg)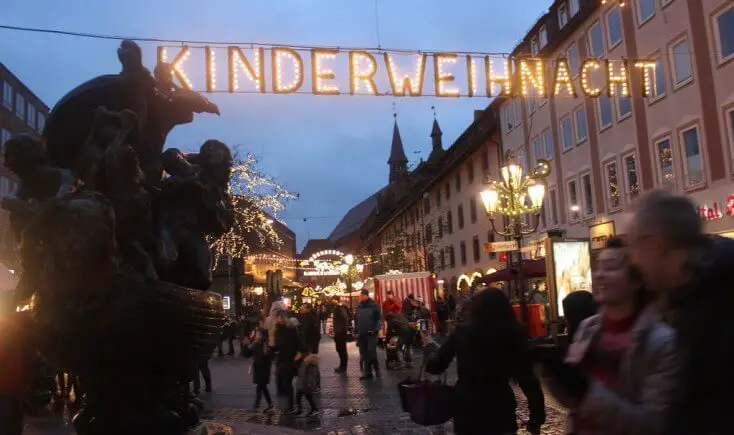 This is a smaller Christmas market, linked to the main one, specially designed for children. There you will find carousels and a train to entertain the small children while the parents can take a break and sip some mulled wine. Every stall in this small market has on its top a scene from a story loved by children: Hansel and Gretel, White snow and the 7 dwarfs etc.
3. The market of the sister cities (Nuremberg)
This is the one that is supposed to add an international flair. Every sister city of Nuremberg has a stall Antalya (Turkey),  Kharkiv (Ukraine),  Glasgow (Scotland), Gera (Thuringia), Krakow (Poland), Nice (France), Prague (Czech Republic), San Carlos (Nicaragua), Shenzhen (China), Kavala (Greece), Skopje (Macedonia), Atlanta (USA), as well as some partner communities – Bar (Montenegro), Brasov (Romania),  Santiago de Cuba (Cuba), Kalkudah (Sri Lanka) and Verona (Italy). I had great expectations from this market and thought of it as the main attraction. However, it was almost empty at all times. It could be great, the name says it all, it should take visitors on a journey around the earth. I expected to see Christmas related customs in different countries. I would have liked this market to be both cultural and commercial. But what I saw was disappointing. The offer was very limited and similar to the one in the other stalls: scarves, necklaces and (greek) mulled wine. Do greeks even boil wine??? This is a pity, as the people were actually from the countries they represented. I just felt that this market could be so much more.
---
READ ALSO: BUDAPEST – VISITING THE CHRISTMAS MARKETS IN 2021
---
4. Fürth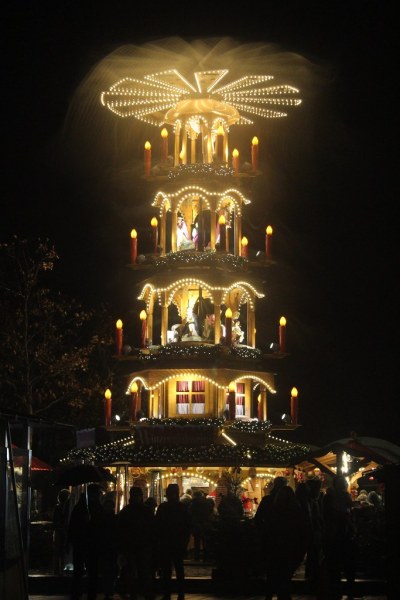 The Christmas market in Fürth was the first German Christmas market I ever visited. It was stunning and even after seeing many more of them, I still think it is very beautiful. The wooden houses are arranged in a maze and as you succeed to exit the maze, you will be awarded with the view of a beautiful Christmas pyramid.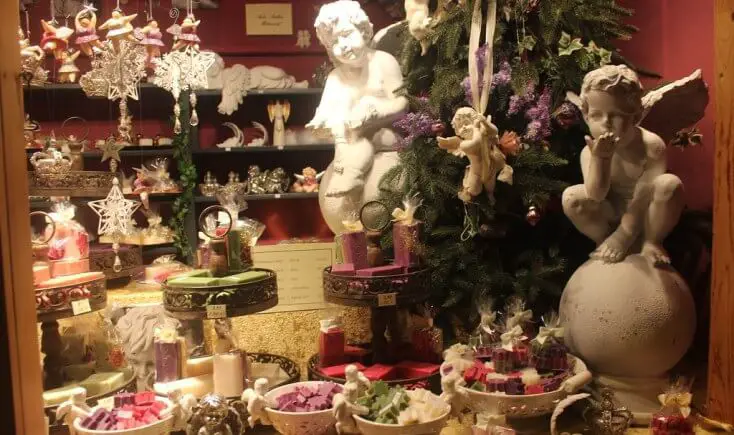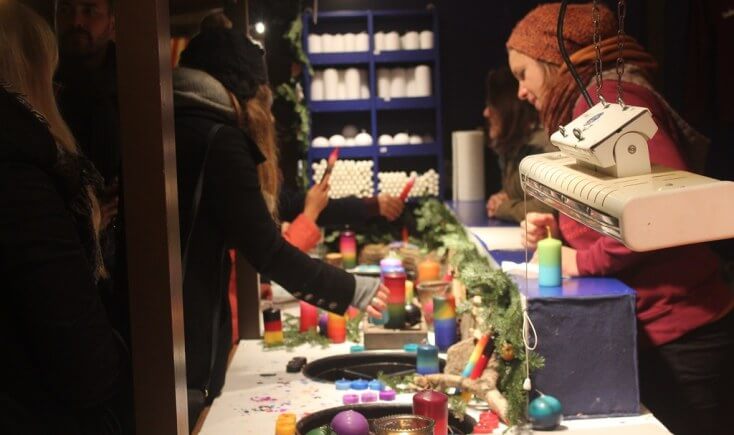 5. Erlangen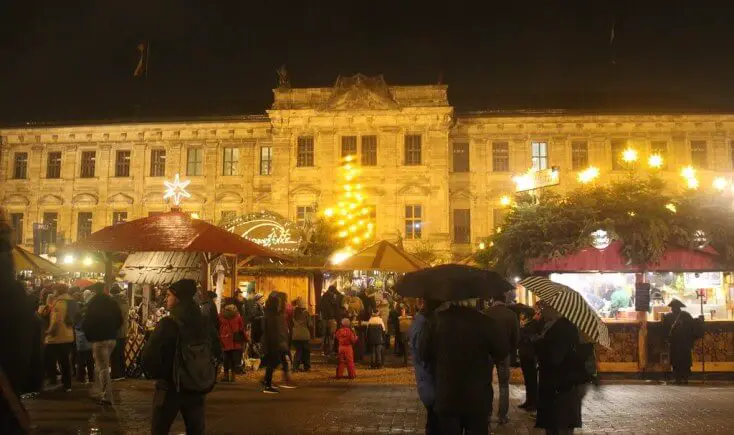 The Christmas market in Erlangen is far from being my favorite. It is very small and crowded. If it would be a little larger, it could be indeed special and there is more than enough space to enlarge it, as its location is on a huge square in front of the baroque Erlangen palace. The setting is quite nice and there is fir sawdust all around the place. This makes it the market with the best smell, very Christmasy. Some carved stems and the latino music played make it even more different.
6. Bamberg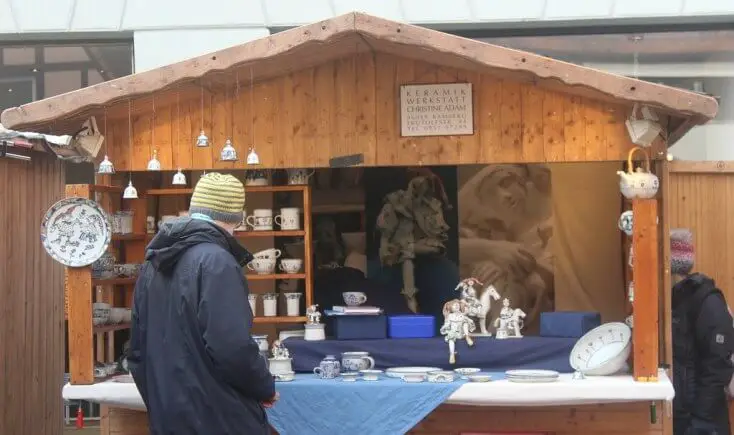 Bamberg was the huge surprise of this trip. I had little expectations from it, but this city would be beautiful at any time. It is colorful, it has cobbled alleys, its own beer which tastes like bacon (try smoked beer at Schenkerla) and so many other things that amazed me.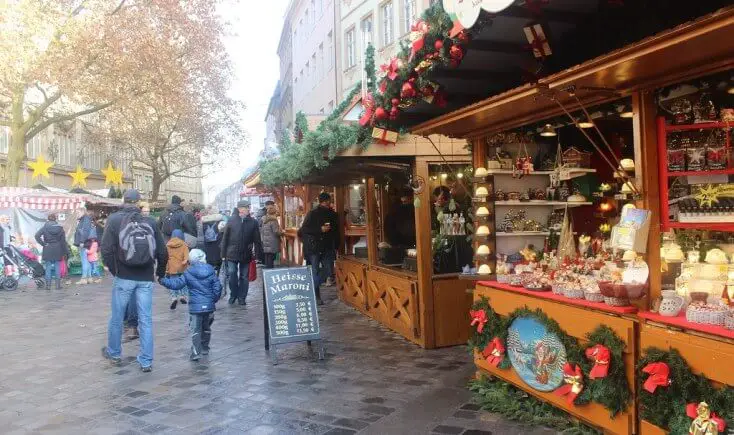 In regards to the Christmas markets, it actually features two of them. One is very small on an alley, next to St. Johanniskapelle. It is a crafts market in fact. The second one lies in the heart of the old town in Maximiliansplatz. The central piece of the square is a nativity scene which depicts different scenes as Christmas approaches. The wooden stalls spread also on the streets nearby and there is also a tall Christmas tree in front of the Neptun fountain.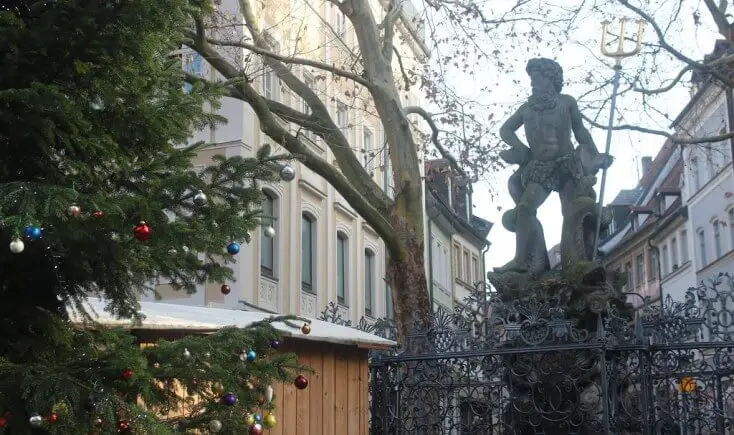 7. Würzburg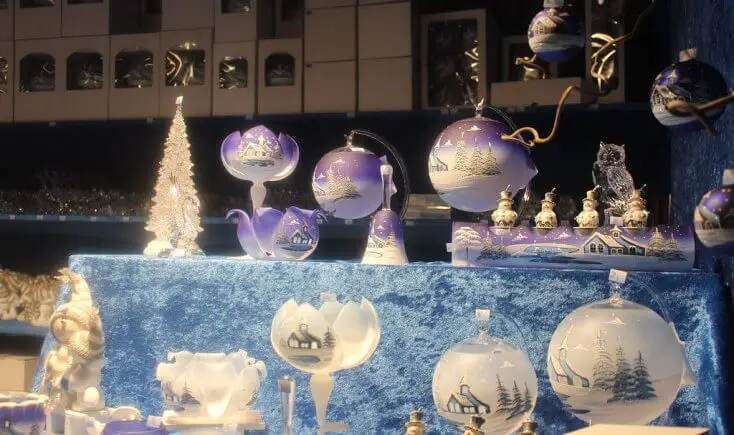 This town also features two Christmas markets. The Christmas crafts market in the courtyard of the city hall is only opened during weekends. The artisans display embroidery, ceramics, ironwork, toys, hand painted glass balls and decorative angels. You can see some of the craftsmen at work and it was the best crafts market I saw on the trip. The main market enjoys one of the most charming locations, between the Marienkapelle and the Falkenhaus. Have fun trying the spicy half meter sausage and some dampfnudeln with pickled cabbage with bacon. They are really tasty and traditional.
---
READ ALSO: CONSTANȚA – 7 BISERICI ȘI LĂCAȘURI DE CULT DEOSEBITE
---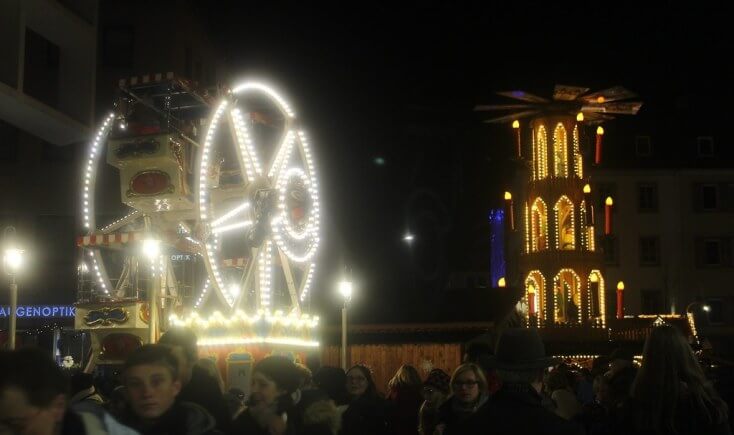 8. Rothenburg ob der Tauber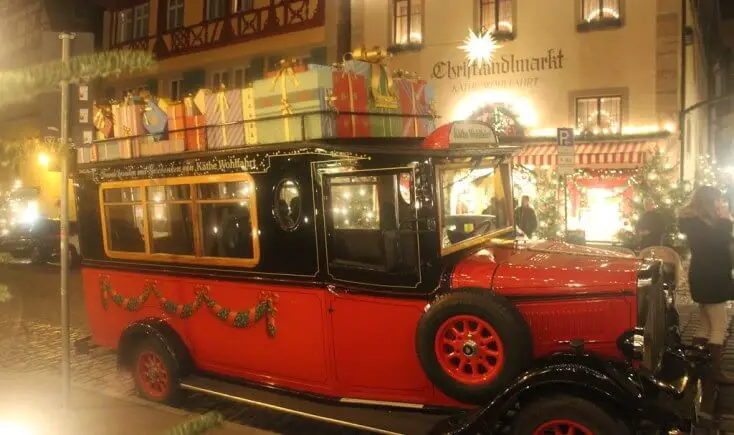 In the little city on the Tauber, I think Christmas never ends. Not only that it has a Chrismas museum and a Christmas shop open all year round, but the streets look like in a Disney Chrismas movie. The gingerbread houses, the cobbled streets, the towers, passages and the old advertisements of the shops makes you expect Santa to land from the sky at any time. And you might actually find him in the Christmas music playing some music. Sometimes there is also a band that sings carols.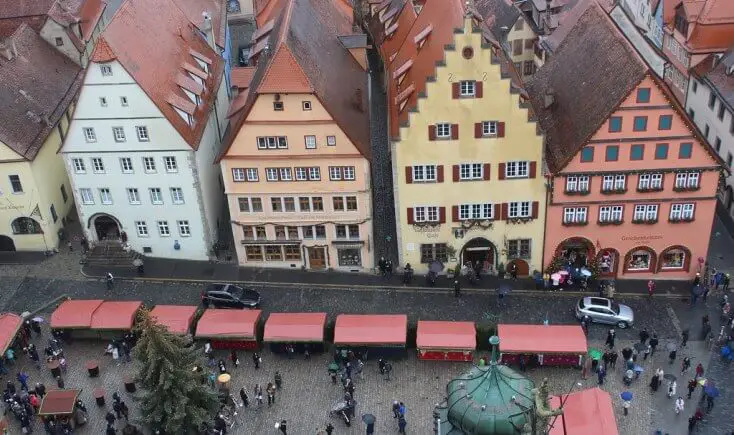 This is the place where you will get a sense of community. The Christmas market spreads in several squares and along several alleys, but it is not that crowded. They also have a different system for the cups. They don't belong to a specific stall, they are all gathered at one stall where you can also see the models from the previous years. This emphasized for me the community feeling. You can also relax in a cozy Chrismas lounge or climb the tower of the city hall for the best views of the town and the market. Try a Schneeball, a local specialty. You can find it in pastries all around town for 3 euro or in the Christmas market for 4.5 euro. They are equally good. The traditional one is a pastry ball covered with powdered sugar, but now you can also find it with different flavors.
A trip to the Christmas markets in Germany is the best way to soak in the Chrismas atmosphere. Learn some German words that might come in handy, drink some mulled wine or egg punch, try some local specialties, enjoy a little people-watching and look out for Santa. He might actually be around the corner.
Have you ever been to Christmas markets in Germany? What was it like? Would you like to visit some of them?
Travel With A Spin contains affiliate links. If you make a purchase through these links, I will earn a commission at no extra cost to you. Thanks for reading!