Iceland is well-known for its diverse and unique landscapes that catch one's eyes, no matter how pretentious one is. Smoke curtains that rise from the earth, natural thermal springs, active geysers, mud volcanoes, waterfalls, waterfalls and again waterfalls are some of the things that attract more and more tourists to this beautiful country. There is no need to go far from its capital in order to see all these wonders. All of them can be seen on Iceland's Golden Circle that starts from Reykjavik. Don't forget to take your time to visit also this city. It is a pretty special European capital. Read more about Reykjavik.
The best way to see Iceland, including the Golden Circle, is by hiring a car and start exploring. If you choose one of the excursions organised by the local agencies, you'll most likely only see the three main points of interest: Thingvellir National Park, Gulfoss Waterfall and the geysers Geyser and Strokkur. If you decide to drive on your own, you'll have the freedom to stop in more places and visit less known attraction on Iceland's Golden Circle.
If you choose to go on an organized tour, here are some good options:
Tip: Golden Circle is a preview of what Iceland has to offer. If you rent a car, also look into this 5 days itinerary of Iceland to see even more of it.
The route proposed here takes about 4 hours, without stops. I recommend you allocate it an entire day in order to freely enjoy each location. Below you can find a map with the Golden Circle on which I've highlighted the major attractions. Of course, you can customize the route depending on your interests.
First Stop: Thingvellir National Park
A tour of the Golden Circle cannot start without a little morning movement. The right moment to wake up breathing the clean air of Iceland. The park is an UNESCO monument and should be on the list of any traveler to  Iceland, for its geological and cultural value.
This is the gathering place of the first Parliament in the world in 930. No, not in that green building you'll see at the entrance, but a little farther, in the canyon. Here used to gather yearly the strongest people in the country at that time, discuss the laws and make justice. On this occasion, families of farmers, merchants, craftsmen, story-tellers and travelers used to get together. The Parliament did not have its own building. The participants dwelled in tents for the entire period of the gathering.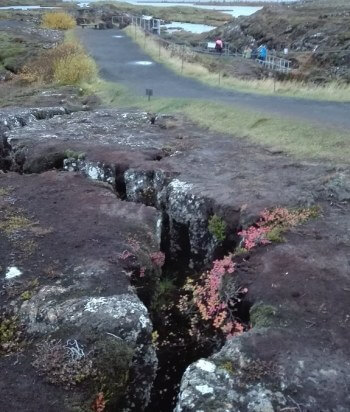 This is also the place where the Eurasian plate meets the North American one. If you are brave, you can dive or snorkel in the Mid-Atlantic Ridge. The park is an extraordinary scenery for hiking lovers. You'll see birds you have never heard of and you can follow a marked route to a waterfall.
Second stop: Kerid Crater
This is one of the few natural monuments in Iceland where you have to pay a tax to visit (350 ISK or cca 3 euro). There are more beautiful places in Iceland that can be seen for free, you'll say. Therefore, this tax, even if it small, is hard to understand for many tourists. The reason behind it is that the land is private property, which allowed the owners to impose it. I must recognize that the landscape is beautiful and colorful. You'll also see this from the photos and I really hope they will convince you to visit it. I really liked this place.
The volcanic crater is over 300 years old and if you haven't seen one before, it is totally worth it and you should not miss this opportunity. Especially as it lies exactly next to the main road on the Golden Circle. Kerid is in face a volcano whose cone fell, most probably after a massive eruption. The water at its bottom comes from the water table and rainfalls. The depth is roughly 10 m, but varies depending on the season.
In autumn, on a sunny day, the blend of colors given by the soil, the rocks, the moss and the water on the bottom is amazing. You can descend to the edge of the lake on a path and marvel at the water as it appears to change its colors.
Third stop: Laugarvatn Fontana
Another stop I recommend is at the Fontana geothermal baths in Laugarvatn, but not to take a bath. For this I'll recommend you a better place a little later. I'd suggest you to plan your time ahead so that you get here around 11:30 or 14:30 when you can watch the Icelanders using the geothermal energy to cook their bread in the ground. Visitors can then taste the bread, called rye, with butter. The tour at the "bakery" is a little pricey (1500 ISK or about 12 euro), but I think it is an experience that one must try.
Forth stop: Efsti Dalur II Blaskogabyggo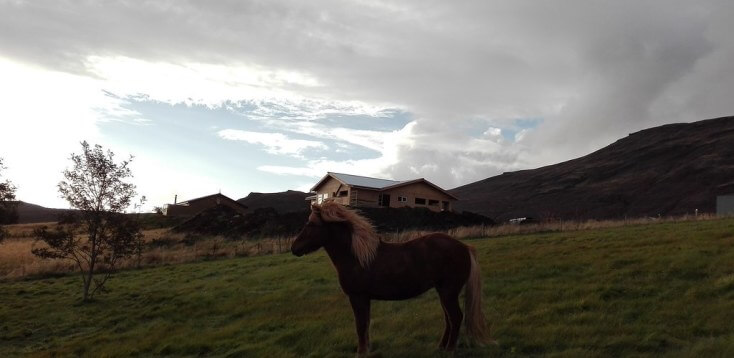 Far from being one of the traditional stops on the Golden Circle, it was by far the tastiest one and the one that brought the brightest smile on our faces. Efsti Dalur II is a cow farm that makes its own ice-cream. You get to choose between too many flavors for one to be able to make a quick decision and you can also watch life the process of ice-cream making. It will be hard to leave this place, but just outside some Icelandic horses will be waiting for you. They are so nice that you will want for sure to caress them and for this you'll need some treats for them, like carrots or apples.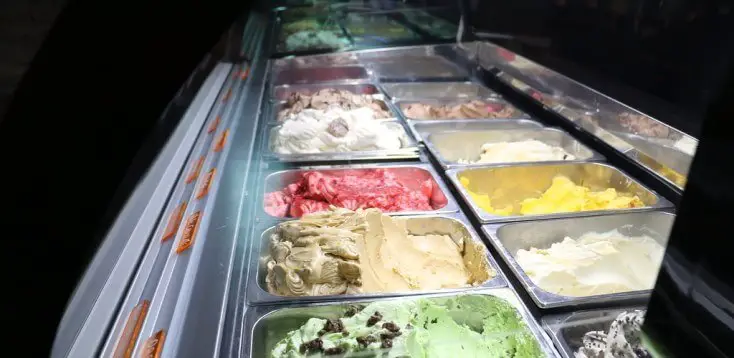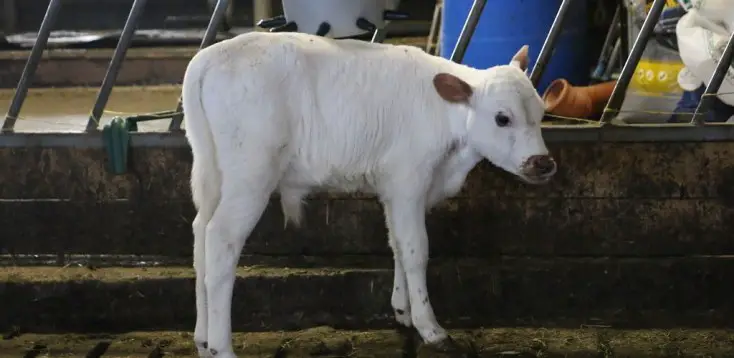 Fifth stop: Gulfoss Waterfall
Gulfoss is a waterfall in the canyon of Hvita river fed by the second glacier of Iceland, Langjökull. What makes it special is the fall of over 30 m from the ground level into the steep canyon. The water seems to disappear all of the sudden . During the sunny days you can see several rainbows as the water splashes around.
If you see a portrait before descending to the waterfall, this is of the person that loved Gulfoss the most and due to whom we can still marvel at it today. In 1907, foreign investors wanted to build here a hydroelectric plant, that would have changed the landscape forever. Sigríður Tómasdóttir protested against it and sued the investors that had rented the land from her father. She also threatened to throw herself into Gulfoss. In order to make a statement she walked bare feet  120 km from Gulfoss to Reykjavik on unpaved ground.
Sixth stop: Geyser and Strokkur
There are fairly small chances to see an eruption of the Geyser, as this happens  currently very seldom. However, you can see the eruption of its smaller brother, Strokkur once at every 5 to 10 minutes. This throws a water column of 10-20 m. You must see it twice. Once to watch it with your eyes and the second time (and a lot of other times) to try to capture it on the camera from start to end.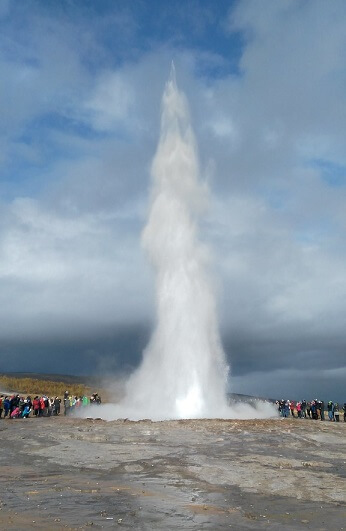 Strokkur was first mentioned at the end of the 19th century. Since then, it had jumpy eruptions and after an earthquake at the beginning of the 20th century it was clogged and stopped erupting. Only in 1963, did the locals clean its cone, and since that it erupts every few minutes to everyone's enjoyment.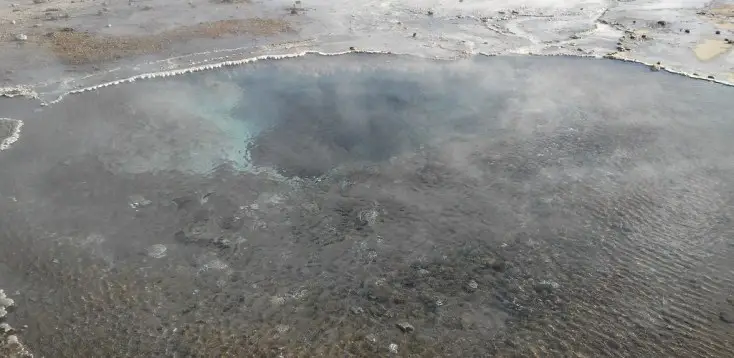 Geyser ("to erupt" in Icelandic), is calmer that once upon a time, erupting only few times a year. You must be really lucky to see its 70m water column that only rises for few seconds. It is the one that gave its name to all the geysers in the world.
Seventh stop: Skalholt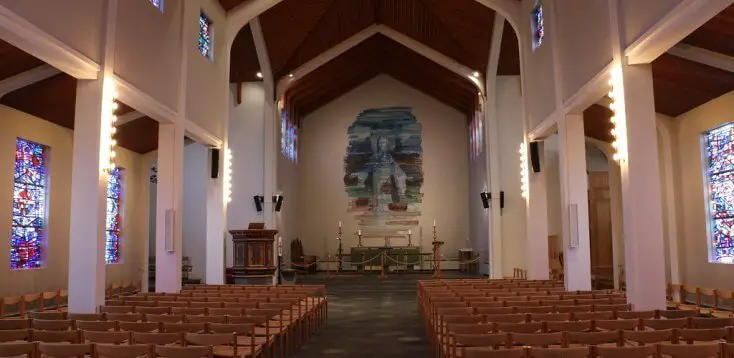 Skalholt is a site with a huge historical importance for Iceland and believed to be holy land by the Icelanders. It was the center of ecclesiastical  power in Iceland for almost 700 years, starting with 1056 and the first bishop of Iceland, Ísleifur. At that time, Skalholt was the greatest town in Iceland. Since then it was a center of culture and education. Thirty-two catholic bishops stayed here until the Lutheran reform in 1540. The reform was not peaceful and the last catholic bishop, Jón Arason, and his two sons were beheaded in 1550.  After this tragic event, thirteen Lutheran bishops ruled here until 1801, when the bishopric chair was moved to Reykjavik.
The first cathedral was built in the 12th century. Seeing the small church here, it is hard to imagine that once upon a time here stood a sumptuous building made out of wood that had been sent with huge efforts from Norway. In the meantime, the church was rebuilt frequently because of fires, volcanic eruptions, earthquakes and other natural hazards and it became smaller and smaller till the 19th century, when it was only a consecrated cowshed. The cathedral that can be seen presently was built between 1956 and 1963. During the excavations for the foundations of the current church, a stone coffin was discovered of bishop Pall Jonsson (†1211). This can be seen in the cellar of the church.
You should go to Skalholt to see a page in Iceland's history and a site thought to be magic by the locals. If you get here in July, you have one more reason, as every weekend concert of classical and contemporary music are held here.
Eight Stop: Secret Lagoon in Fludir
A perfect way to finish a perfect day :). The Secret Lagoon is the placed I promised to indicate you earlier. It was built in 1891 for the local community, being the oldest pool in Iceland. Over 70 years ago, the locals took swimming lessons in it.  As modern pools were built, they ceased to come here. It was reopened by the current owner in 2014, after it hadn't been publicly used for 60 years. The owner tries not to make out of it a crowded touristic spot, but an intimate place, where a few people can relax and have a good time. When we got here, there were only 2 or 3 locals floating in the pool. A thermal spring constantly supplies the lagoon with warm water at 38-39°C.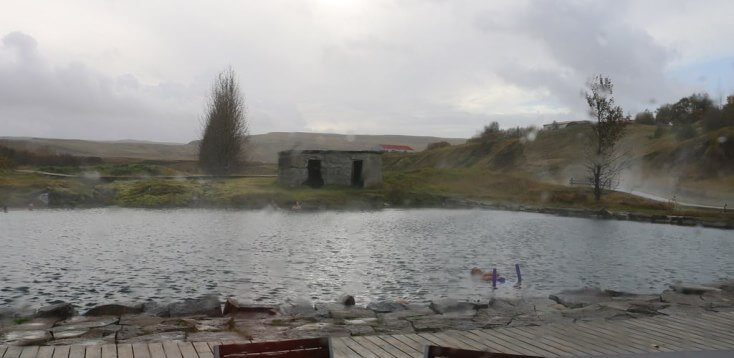 The lagoon combines the wildness of Iceland with commodity. The changing rooms, the toilets and a small café were arranged in  a former glass house. Wooden platforms ease visitors' access to a small Geyser. "Litli Geysir" erupts every 5 minutes or so. You can also the the hot springs that were used by the women a while ago to wash their laundry. Today they are used to boil eggs for a late dinner by the tourists that hope to catch a glimpse of the aurora borealis. If you are not afraid of a bath in the night, I recommend you do exactly the same and leave this place for the end of your trip around the Golden Circle of Iceland. The entrance is 2800 ISK, more or less 20 euro, much less than the pricey Blue Lagoon will cost you.
Did you drive the Golden Circle of Iceland? Which was your favorite stop? Where do you wish you had stopped or you plan to stop next time?
Pin it for later!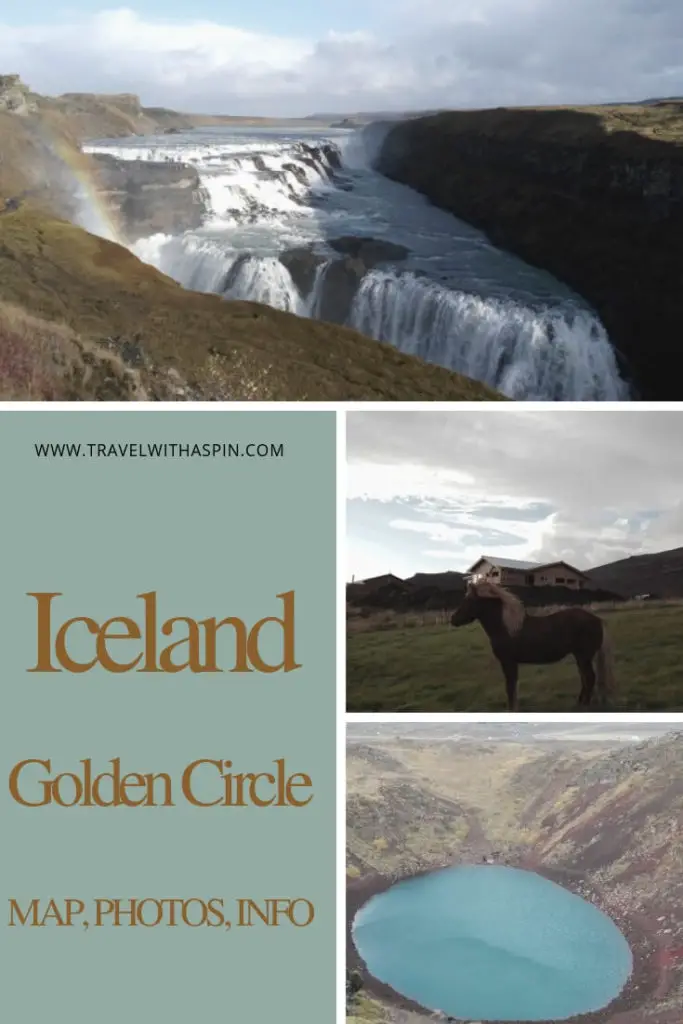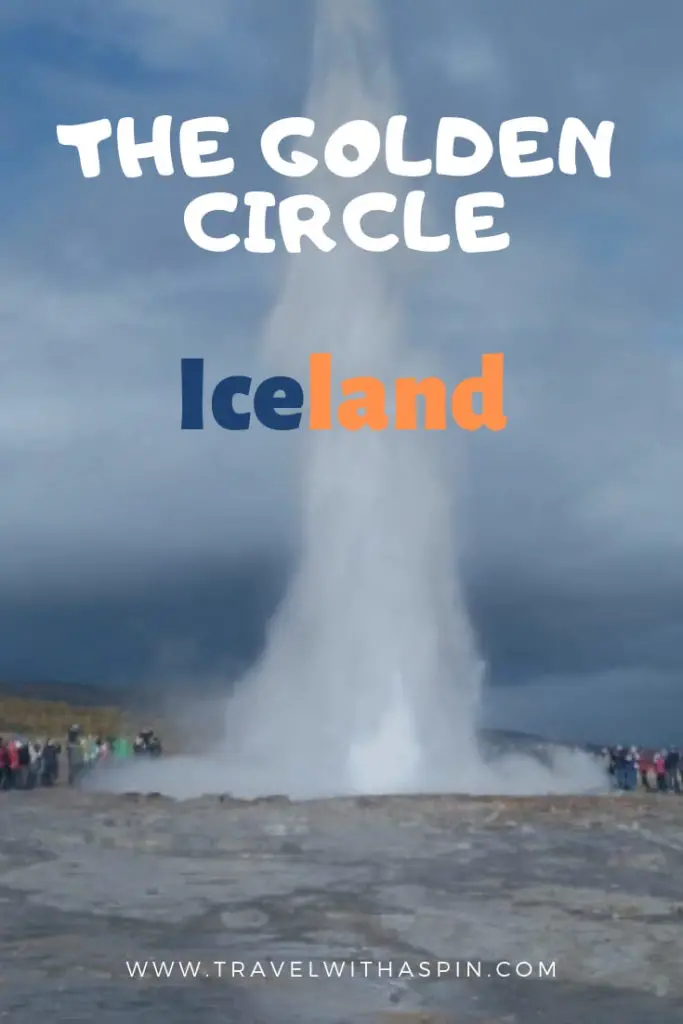 Travel With A Spin contains affiliate links. If you make a purchase through these links, I will earn a commission at no extra cost to you. Thanks for reading!