"There is nothing you can do in a day in Reykjavik." Many people think like this before going in Iceland. This is because the natural beauty of Iceland is stunning and there are much more articles written about this then about  its capital. However, this can not be father from the truth. There are a lot of places to see and a lot of things to do. Maybe you'll even wish to say more in the city.
Reykjavik is the largest city in Iceland and the northernmost capital in the world. Its name means Smoky Bay and was given by the first settlers that arrived on the island. They found in this region hot springs from which smoke and steam raised. Today, here lies a small, but modern city, colorful as a rainbow, clean and safe. It is surrounded by both mountains and the sea and the weather is milder than in other parts of Iceland. The architecture of the houses is not the most impressive one, as they are made out of wood or concrete covered with corrugated sheet metal. However, this is beautified by the creativity of the locals reflected in the colors of the houses and the graffiti art found everywhere in town. After all, it is the capital of one of the happiest countries in the world.
Morning in Reykjavik
Cafés in Reykjavik
I am not addicted to coffee, but I do like to taste it from now to then, especially when I travel. And I'm a big tea fan. So, what better way to start your day in Reykjavik than a local quirky café? And Reykjavik has plenty. Even if there is no international coffee chain on the island (no Starbucks), you should not miss them.
You can try a coffee at Mokka, the first coffee shop in Iceland to serve an espresso and the oldest one on the island.
If you want more than a coffee, you can try the Laundromat café. Here you can do your laundry while you drink a beer or a coffee, eat a tasty brunch, play a board game or read a book, newspaper or magazine. This coffee house also has a nice story. Years ago, the owner heard a man in a café asking a woman to stop breastfeeding in public spaces. A nonsense, he thought. Due to this, when he finally owned a café, he hang the sign "go ahead and breastfeed, we like both babies and boobs".
A creative idea had also the owner of Puffin Coffee. This is not a real coffee shop, as there is basically only a guy that serves espressos, lattes, iced coffee from his kitchen window. The coffee is free, but donations are welcome. There isn't a specific schedule, but for opening hours, you can follow Sverrir Rolf Sander on Twitter.
Free tour of Reykjavik
After charging your batteries, the best thing to do is take a free tour of the city. Everywhere I go, I try to take this kind of a tour. I think everybody should try to see a city through the eyes of a local if they want to know it better. In Reykjavik, you can take a tour with City Walk Reykjavik, which starts daily at 10 am and 14 pm from Austurvöllur, in front of the Parliament or with Free Walking Tour Reykjavik at 12 noon from Lækjartorg Square.
I took my tour with City Walk. They have three guides that aim to make the tour as entertaining and packed of information as possible. They will walk you through the city and give you inside tips on the way, as well as some history hints. In the end, you can also give them your email and get their great email with places to visit, things to do, music and pieces to read. All you need for a perfect day in Reykjavik.
I prefer to take the tours in the morning, so that I have plenty of time to discover some of the places on my own afterwards, if I feel like it. Reserve your place online before going with CityWalk or follow Free Walking Tour Reykjavik online to make sure the tour takes place. Depending on how much you liked the tour and your pocket, a tip is highly appreciated.
What to see and do in a day in Reykjavik
Window shop on Laugavegur
This is the main shopping street that comprises the symbols of the entire country. It is hip, colorful, surprising and expensive. You can find shops with souvenirs, woolen items, puffins, clothes, houseware, accessories and food.
Take a stroll around Tjörnin
Tjörnin is a natural pond in the heart of the town where you can feed ducks and geese year round and take some of the best photos of Reykjavik. In the middle of the pond is the city hall. Here you will find a huge 3D map of Iceland that you don't want to miss.
Go up the Hallgrimskirkja
This is the most iconic church of the country. Its architecture was inspired by the basalt columns of the Svartifoss waterfall in Skaftafell park, but upside down. You can go up the church with an elevator to take some beautiful photos of Reykjavik.
Go into a museum
Depending on your personal interests, there are a lot of museum or art galleries to choose from. If you are interested in history, you can choose The National Museum of Iceland, where you can enter for free on Wednesdays, or the Settlement Exhibition. At the National Museum, literature fans can find also the specially commissioned axe used at the last public execution in Iceland, in 1829. A fictional roman about the executed people can be read in Burial Rites, by Hannah Kent.
If you are more into unique museums around the world, as I am, you can visit The Phallological Museum, an odd collection of penises from animals on the island  (reindeer, ram, whales, dolphins) or that accidentally got on the island (a polar bear), a human, a troll or an elf. If the weather is fine outside and you still want to visit a museum, a good idea would be Árbær Open Air Museum. It recreates a typical Icelandic village, with houses, a town square and a farm. Here you can learn how Icelanders used to live in turf houses before industrialism came to the island. If you are more into art, you can walk through Einar Jónsson Sculpture Museum, which is free to visit and displays more than 300 plaster and bronze statues.
Look around for street art
Don't be mislead by the corrugated sheet metal that covers the houses downtown. Reykjavik is full of colorful street art pieces on fences and buildings. Icelanders are very creative. They also have the most authors per capita and almost each local is a musician, designer or author. Check also the horseshoes on the houses. They are a symbol of luck and, even in Reykjavik, most of the houses feature one.
Visit the Christmas shop
Like many other countries, Iceland also has a Christmas shop, where you can see Santas, reindeer, Christmas trees and ornaments all year round. Don't miss the opportunity to taste a bit of the Icelandic Christmas. And talking about Christmas, the traditional Christmas gift in Iceland is a book. You might want to adopt this custom. In Iceland, one in 10 people will publish a book and they also won some Nobel prizes. In addition, this is a good reason to visit one of their bookstores in your day in Reykjavik.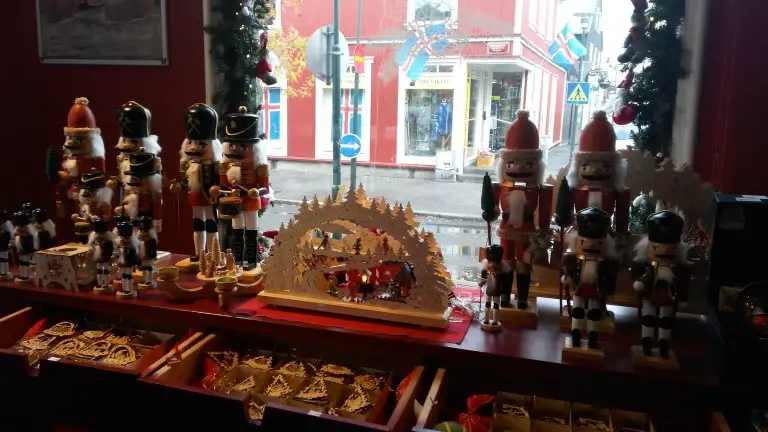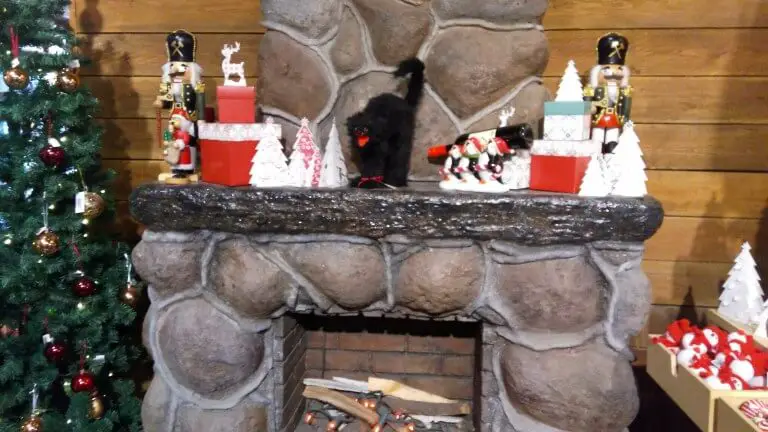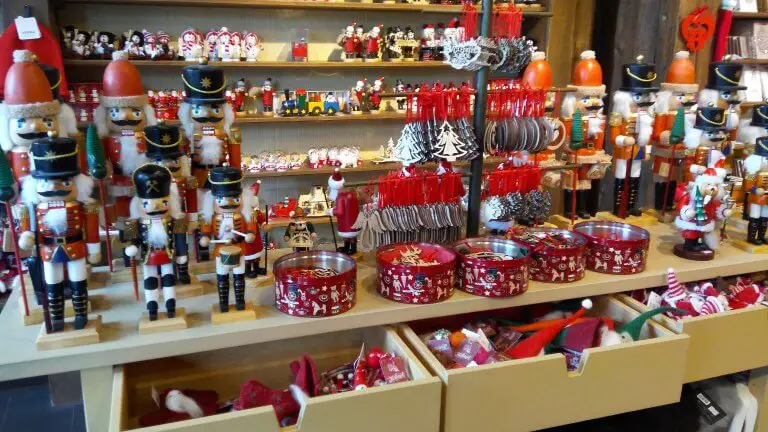 Visit the Harpa Concert Hall
I like it better from the outside in the evening lights, but you can also enter in the building for free and marvel at its design.
Stroll in the old harbor
Take a walk along the old harbor. Watch the whale watch ship and the whale hunting ships close to each other and think about which side you would take. Enter in the reception of The Maritime Museum and admire the miniatures of some ships. Some of them you can still see live in the harbor. If you are passionate about ships, visit the entire museum. The harbor is also the perfect place for a meal with fish and sea food. A must try for your day in Reykjavik.
Go up the Perlan
Perlan is a building in Reykjavik, on the hill Öskjuhlíð. It consists of a hemispherical structure built over six tanks of hot water used for supplying the entire Reykjavik. Inside the cupola there is a rotating restaurant and around it a terrace from which you'll have one of the best views over Reykjavik.
Take a photo of the Sun Voyager
It is a symbol of freedom, progress, hope and discovery of new territories.
Evening in Reykjavik
In the evening, I recommend taking a bath in one of the public swimming pools of Reykjavik. There are seven to choose from and there is no other more Icelandic experience than this. You will have to take a shower naked before entering the pool and probably you won't be alone. Even if they are separated by gender, this might be uncomfortable. Get over it and don't miss the experience for this reason. You can soak in the outdoor hot tubs, swim, watch the locals. This is the place where locals go to discuss football and politics. Many of the pools have also jacuzzis, saunas and steam rooms. All the water is geothermal. It costs 900 ISK in Reykjavik, which is much cheaper than the Blue Lagoon and they are much less crowded and touristic. This will probably be the cheapest spa you'll ever go to and the best way to end your day in Reykjavik.
If you aren't into bathing, you can go to a football game. Iceland has been the biggest revelation of the last world championship. Or, if you want something more adventurous, go to the local beach, Nauthólsvík, take a dip in the warm water and then in the chilly waters of the ocean. After that, try again a local café or a restaurant in the harbor.
Night in Reykjavik
At night, if you are not too tired after your day in Reykjavik and it is weekend, you can go into a club. Icelanders party in clubs only on Fridays or Saturdays after 1 am. Most of the pubs and bars are on Laugavegur and the continuing streets: Bankastræti and Austurstræti. During the day they are coffee shops or pubs. You can also try to spot the northern lights in winter. A good place is Grotta.
Hopefully, this tips will help you make the most out of your day in Reykjavik. Don't forget to smile, talk to the locals and get intentionally lost for a little bit. This is the best way to discover a new city. Don't worry, Iceland is safe and most of the Icelanders speak English pretty well. As a bonus, even if it is winter, you shouldn't be afraid to wander the city. You won't slip. The streets are heated. This is both beneficial for pedestrians and cars. As a result, the streets won't be ruined that fast and the pedestrians won't fall.
Even if Reykjavik is an interesting city and has a lot to offer, I'm pretty sure you did not travel to Iceland just for it. I invite you to read my article about the Golden Circle of Iceland for more ideas.
Are you planning a trip to Iceland? What are you going to see in Reykjavik? Have you already been there? What is your favorite place?
Pin this article for later!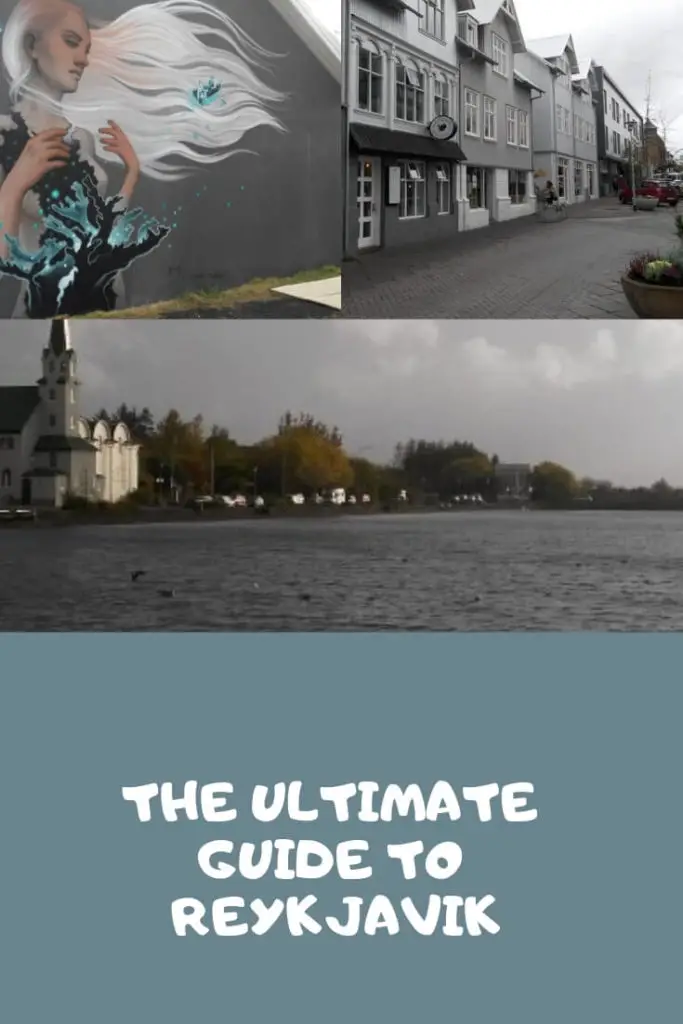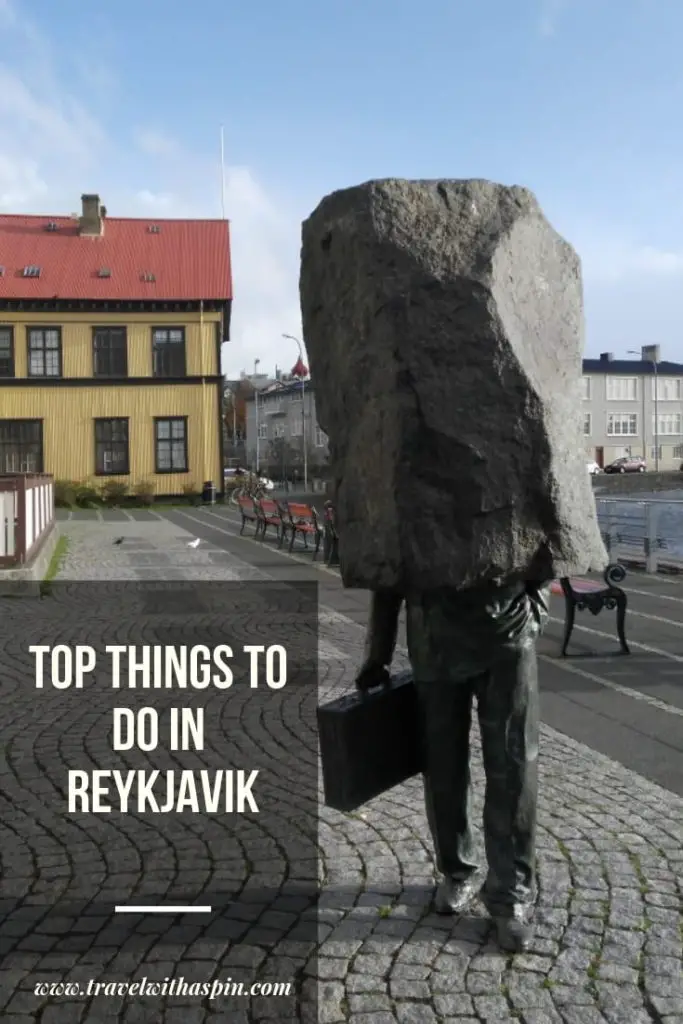 Travel With A Spin contains affiliate links. If you make a purchase through these links, I will earn a commission at no extra cost to you. Thanks for reading!