" Wine is the walking stick of the old age and the craziness of youth " – Anton Pann.
I don't know about you, but one of my favorite things about autumn has to be tasting wine in fine wine cellars accompanied by a bunch of good friends and a plateful of tasty food. I am not a great wine drinker, but as soon as the wine season begins I look forward for a wine tasting trip. Even if I know that the best one is not the new one, I still believe it is the best season for it.
If you are looking for a place to do the same, look no further than Moldova, a little country in Eastern Europe where many powerful people on Earth keep their wine in some of the best wine cellars in the world. But what winery should you choose if you run out of time? Today I'll make a comparison of two of the most known cellars in Moldova to help you decide.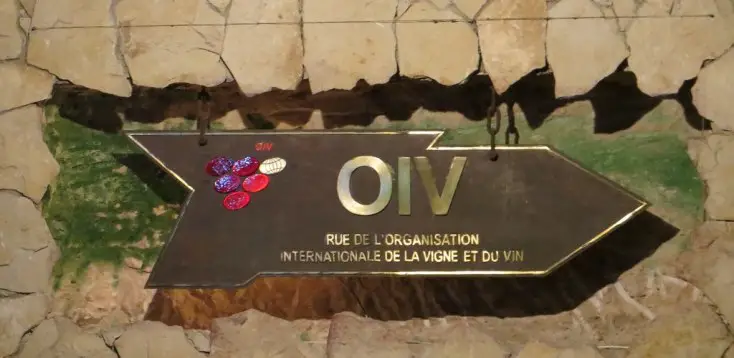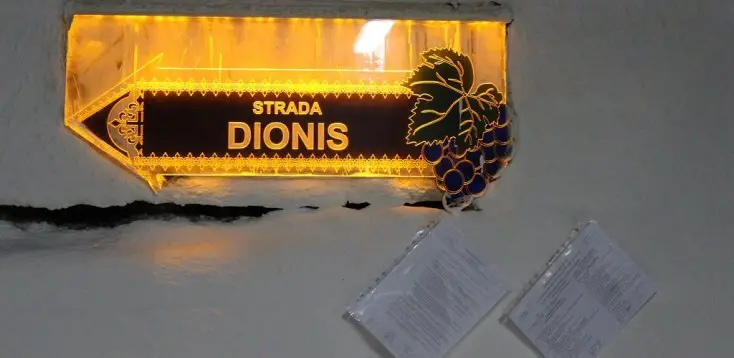 Cricova and Mileștii Mici share a similar history and similar conditions. They are both real underground cities with streets with strange names like Dyonisos, Cabernet, Sauvignon, Luminiere, some depending on the wines kept there. They were first stone mines, and part of them is still used to extract limestone, but due to the humidity and  constant temperature, they have been used for more than half a century for wine keeping.
Booking the wine tastings
You should book your place with about one week in advance. If it is autumn, even with more time in advance would be better. I recommend you to book your spot, as when we got to Cricova there was a group that had to take only the tour, without tasting, because they hadn't booked in advance.
At Mileștii Mici I was able to book for our group with just one call and one e-mail to let them know the menu. However, they don't allow groups of less than five persons after 5 o'clock, even if they are joined with other groups. I couldn't find the reason behind of this, but it's good to know. On Sunday they only allow groups of more the 15 people, so plan your time accordingly.
At Cricova, there is a very different story. I've called them to book our spots, but appearently, you have to pay in advance by transfer or in Chișinău. So they said they would send me the details of the account by e-mail. Several days after that, my e-mail was still empty. I decided to write to them. After I sent them two e-mails, they finally answered and sent me the account details. Unfortunately, you could only pay in euro and the taxes were of about 15-20 euro. After several calls, they agreed to let us pay before starting the tour. Not the best first impression I thought. I still think they should revise this process, as it sends a very bad impression about their services.
Location
Both cellars are close to Chișinău, only few km outside the city, one at the north (Cricova) and one at the south (Mileștii Mici). They are easy to reach.
Transport to the wine-cellars
At Cricova you can take the taxi from Chisinau, or even Stăuceni, which is only 5 km away. The taxi is really cheap. There will be small trains waiting for you outside to take you inside the cellars.
At Mileștii Mici you have to go by car. It is about 15-20 km from the city, but not this is the reason. You will go inside the cellars by car.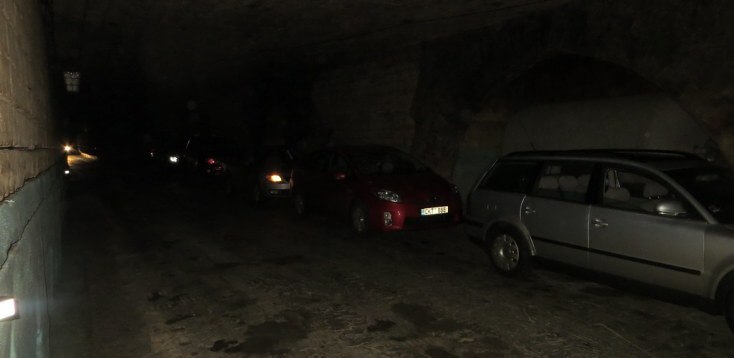 Although driving your own car on the streets in the cellars might seem interesting to some of you, I prefer to drink with all the friends that are with me without breaking the law as the alcohol tolerance while driving in Moldova is 0.
Welcome to the wine cellars
You have to get 20 minutes earlier to each of the wineries. At Cricova the receptionists and the guides were very friendly and welcoming. Our guide was a nice girl, called Natalia. At Mileștii Mici people were pretty cold and the guide was pretty impolite and late to come and say "hello" to the group. I don't even remember her saying her name.
Menus
We chose similar menus to both wineries, without souvenirs, as we wanted to have full freedom to choose the wines we took home.
At Cricova there are only 7 menus to choose from and they are completely different, depending on the budget and if you want to eat more or less. At Cricova, we took "The kingdom of wine" menu, which included a cold and a hot plate, as well as pies, bread and water for 795 lei. Even if in the menu it said there would be potato pies, we got pumpkin pies instead with raisins, which were not that good. The rest of the dishes were pretty good.
When we first called at Mileștii Mici, there were about 20 menus to choose from, which was pretty confusing as there was no major difference between them. Fortunately, they changed the menus before we took our trip and they made a better menu, with fewer choices, which I think was a really good idea. In the end, we chose "Moldova" menu, which was a very good option and included a cold plate, a hot plate, a soup and dessert for 650 lei. I would have like to get a traditional dessert, instead of a confectionery cake, but apart from this the food was delicious, especially the soup.
Wine
Each menu included several wines, of course, as this was the main reason we went there.
At Cricova we got 6 types of wine, two white, two red and two sparkling wines. Everybody's choice was Codru, a red dry wine with a slight almond flavor due to being kept in oak barrels.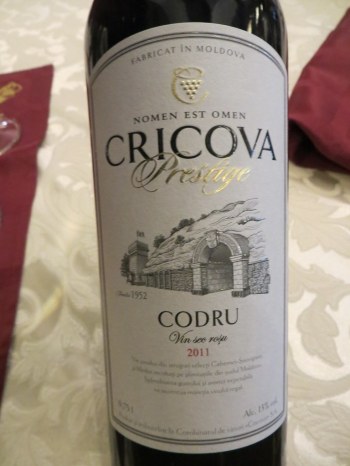 At Mileștii Mici, although as per the menu, we should have got 5 wines, we got only 4, because we were 4 person. Even if this is understandable, I would have liked to be informed in advance. Our favorite was "Mărgăritar", a dessert wine, which worked perfectly with the cream cake we got.
Generally, the wines were better at Cricova than at Mileștii Mici, which is also proven by the medals and diplomas they got at several international contests and festivals.
In case you were wondering, no , we did not drink all that wine there. We took most of it to the hotel as encouraged by Natalia, at Cricova and as we requested at Mileștii Mici.
Guide
At Cricova, Natalia was very sweet and profession. She had a lot of knowledge about the wines there and the production method. She was more than happy to answer our questions and smile to all of us. If she will be your guide, I can assure you, that the tour will be memorable and you will have a lot to learn from it.
On the contrary, at Mileștii Mici the guide was late, not very nice to us and she sounded as telling a poem with bad intonation. When someone in the group asked her something about the topic she was covering, she threw a totally inappropriate answer. She did not appreciate question and was always in a hurry.
Shop
At Cricova you'll see a shop before entering. It closes at 18:00, but don't worry, there is also a shop in the cellar and I advise you to wait until the end to make your shopping, to have a better impression of the wines. Besides, the guide and the shop assistant will be happy to help you choose wines depending on your tastes and even if I thought they would recommend us the most expensive wines, it was not at all like this.
At Mileștii Mici, there is only one shop at the entrance and it closes at 17:00. If you take the tour at 15:00, like us, you should shop before. We did not know the wines and we chose more influenced by the color and type of wine. There was nobody to advise us.
Quality vs Prices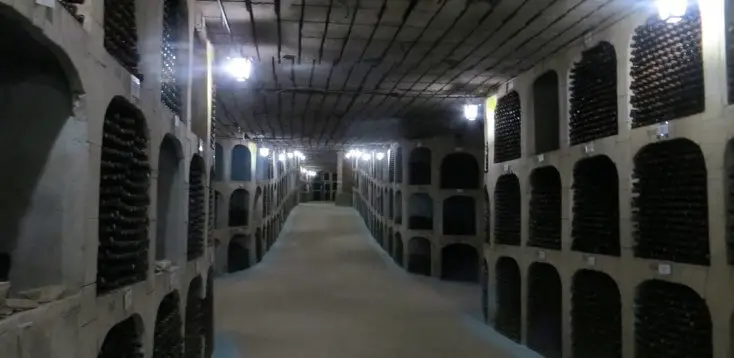 The prices are pretty high for both wineries, not for the tastings, but for the tours. Only the tour costs 300 at Mileștii Mici and 410 at Cricova during weekends. The cost of the menus are not that high after you subtract the entrance price. I think that 100 more is worth, as we got also the transport and the services were much better, in the end. The price of the wine is also a little higher at Cricova, but they have more wines for you to choose from, and the quality is better.
At Cricova, the tour should have taken 2h30m, but I think we stayed more than that and we didn't feel unwelcome at any time. On the contrary, at Mileștii Mici the tour should have taken 2h, but although the guide was late, always in a hurry and despite the fact that they asked us to leave, because of other people waiting, while we were still eating our dessert, we got out before 5.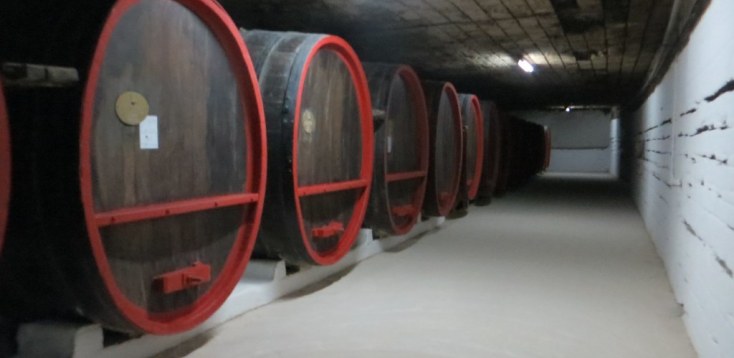 At Cricova we even got our own tasting room, with romanian specific. While at Mileștii Mici we shared the room and table with two other groups from Estonia and Ukraine. Besides, the room next to us seemed more like a restaurant than a cosy tasting room. Even if it did not bother me socialising with the estonians, I liked the intimate atmoshere at Cricova. I suppose Milestii Mici did it also to reduce costs.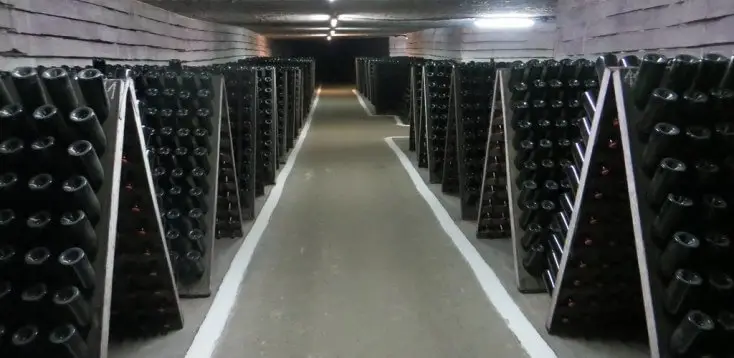 A nice thing at Mileștii Mici were two musicians that wandered through the rooms and sang songs from the regions the tourists came from.
In conclusion, I would not say no to a trip to Mileștii Mici, especially as we did not get to see the wine fountains, which were stopped, but I would definitely visit again with much more pleasure Cricova. At Mileștii Mici they leave the impression of focusing on quantity, not only regarding the wine, but also in regards to tourists, while at Cricova they concentrate on quality and this can be seen all over the place. They make you feel a special guest.
Whatever winery you choose, one thing is sure. The wines in Moldova can compete at any time with the ones from the well known regions in France, Germany or Italy.
Did you visit Cricova or Mileștii Mici? Which did you like the most?
Enjoyed the article? Pin it for later!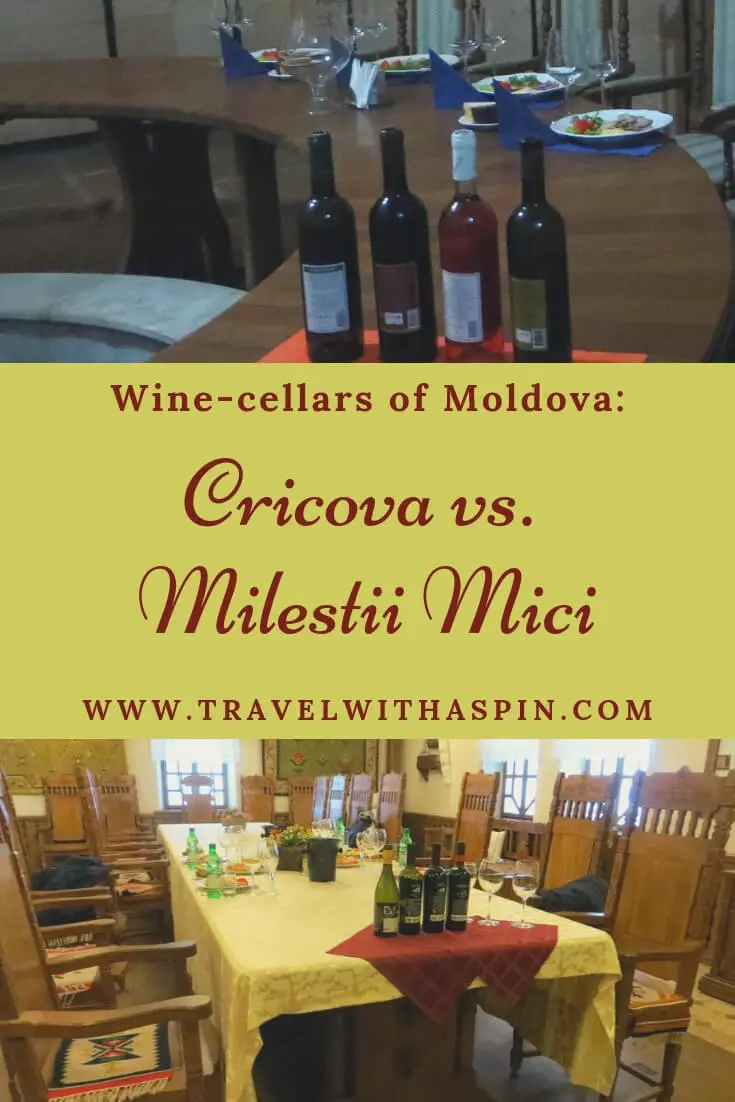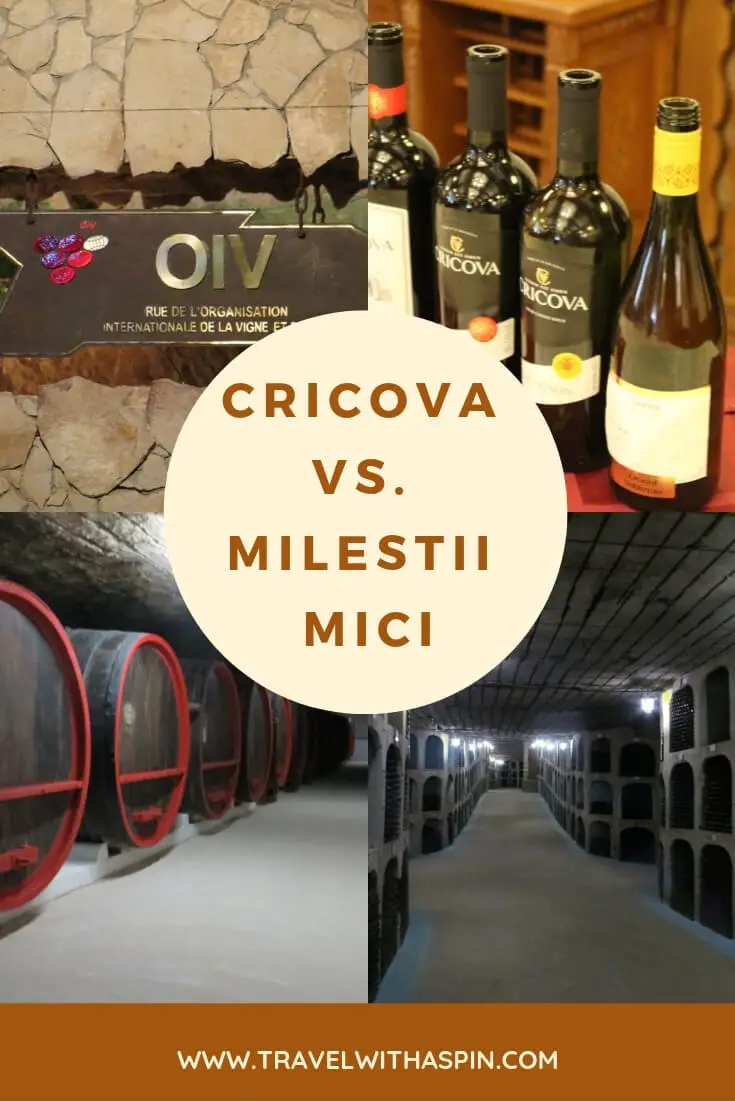 Travel With A Spin contains affiliate links. If you make a purchase through these links, I will earn a commission at no extra cost to you. Thanks for reading!