Slovakia doesn't get a lot of tourists. Besides, the ones that do visit the country head straight to Bratislava, most of the times on a day-trip from Vienna, due to its proximity. All those people have no idea as to what they lose. The East of Slovakia has a lot to offer, starting with Kosice, considered by many the best city to visit in the country.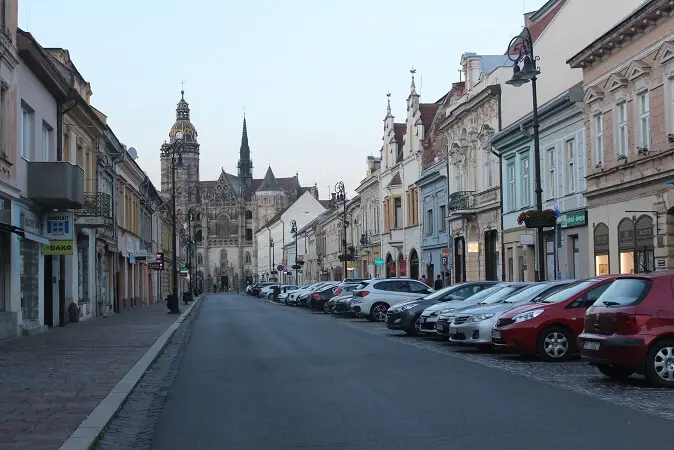 Even if I wouldn't go as far as to say it was more enjoyable than Bratislava, it did give me a pleasant sense of familiarity. It was like I had known it for quite a long time. Do you know that neighbor that has just moved in and you get the strange feeling that you've known him for years? He's neither the prettiest, nor the wealthiest. He's familiar and has a distinctive charm that makes you smile and feel good. In terms of cities, that's Kosice!
The second largest city in Slovakia was capital of culture in 2013. Before this, it already had a high historical value as the first city in Europe to be granted a coat of arms and because of its huge UNESCO site. That year changed it into a hub of art, culture, gastronomy and a lovely city break destination. It might not be fully packed with world famous sights, but the more you look, the more you'll discover hidden gems and cool things to do.
In addition, Kosice is not at all crowded. It's perfect to visit on a sunny summer weekend, when the European world famous cities are packed with tourists. You'll get a charming and peaceful town with a good money value just for you, a handful of other tourists and its 250.000 inhabitants.
How to get to Kosice?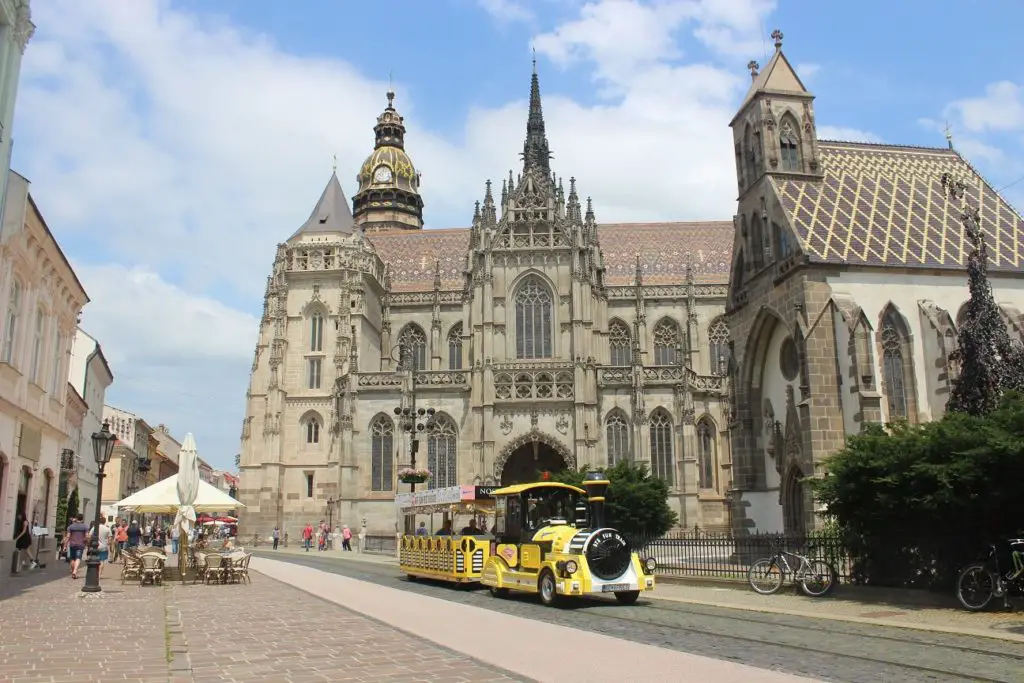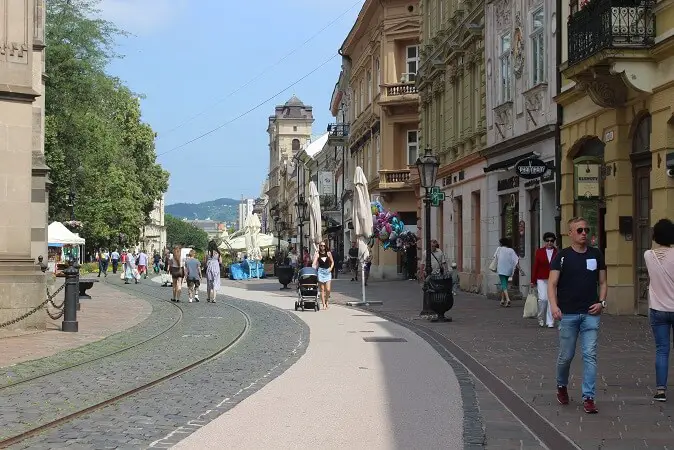 The town is well-connected to the other touristic cities in Central Europe. You can reach it by a direct train from Budapest, Bratislava, Prague or by bus from Krakow. Kosice also has an international airport, but one can also fly in Bratislava first.
Getting around in Kosice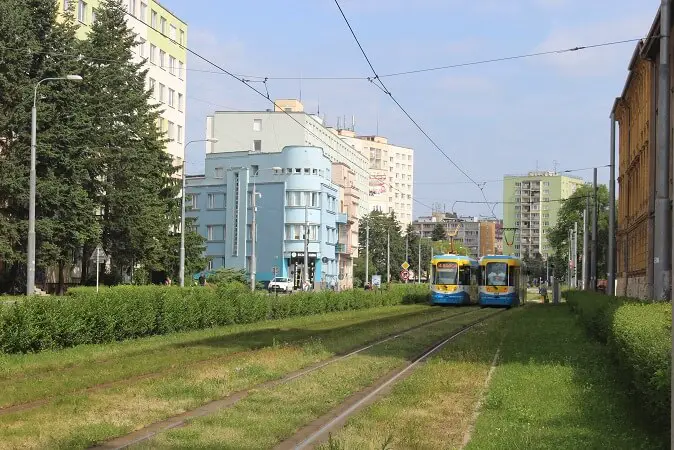 The university city of Slovakia is quite small and easy to get around. Most attractions are on the main street, Hlavna Ulica or within walking distance.
You can buy a Kosice Card that will give you access to the main museums and free public transport. However, I don't think it's necessary, unless you really want to see the museums.
Slovakia uses euro and this makes it slightly more expensive than other countries in the region, but it's still cheap.
We used Airbnb and Booking in order to find accommodation for our road trip. You can get a 40$ discount on your first room by using the link below.
Is Kosice worth visiting?
The short answer would be YES. First of all, I'll give you at least 7 reasons to do it. Secondly, as a picture is worth a thousand words, I'll also post a bunch of them.
Things to do in Kosice
1. Admire the biggest historical area in Slovakia and UNESCO site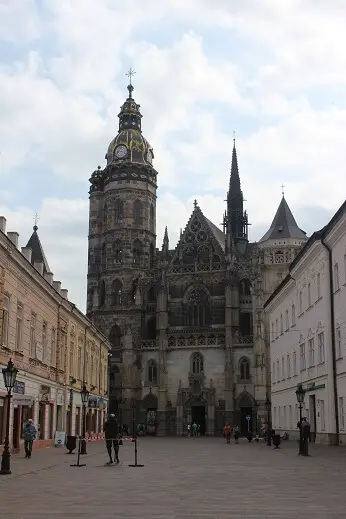 The enormous St. Elisabeth's Cathedral was built in the 14th century. At that moment Slovakia was still part of the Kingdom of Hungary. Today, it is considered to be the biggest in the country and the easternmost Gothic cathedral in Europe.
Inside the cathedral you can buy a ticket to climb the north tower. From there you'll enjoy a 360 degrees view over the main square that it dominates. This should make up for the 160 stairs that you have to climb.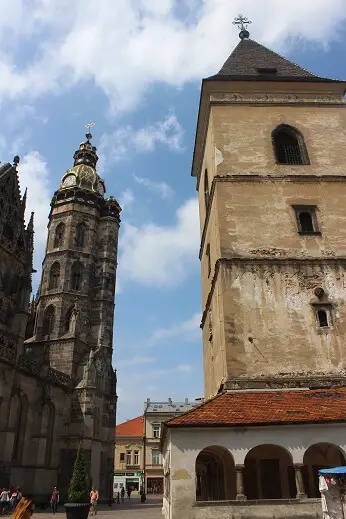 Together with the next door Urban Tower, with the portico that runs all around it, and Michael's Chapel, a cemetery chapel inside the city walls dedicated to the patron saint of the dead, it was proclaimed national cultural heritage.
2. Check out the beautiful architecture in the town's old square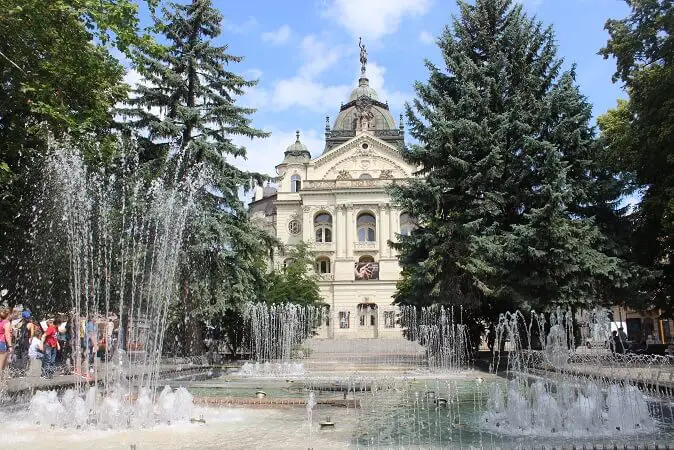 The cathedral dwarfs all the other buildings around, but the imposing neo-baroque State Theater and the Singing Fountain in front of it can hardly go unnoticed. It creates a small green oasis in the middle of the city and brings joy through its selection of songs and playful jets of water.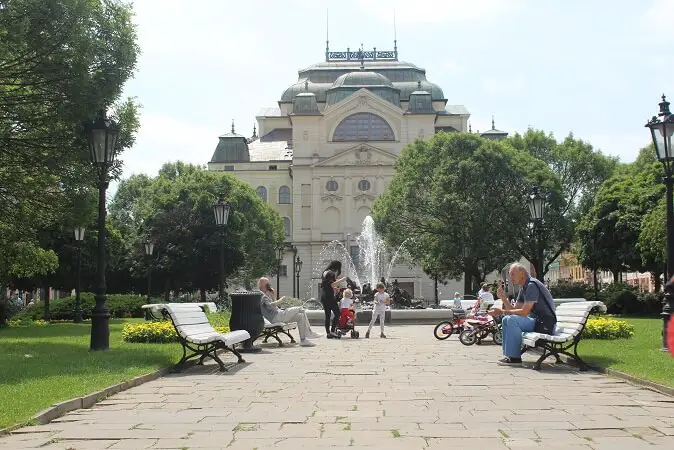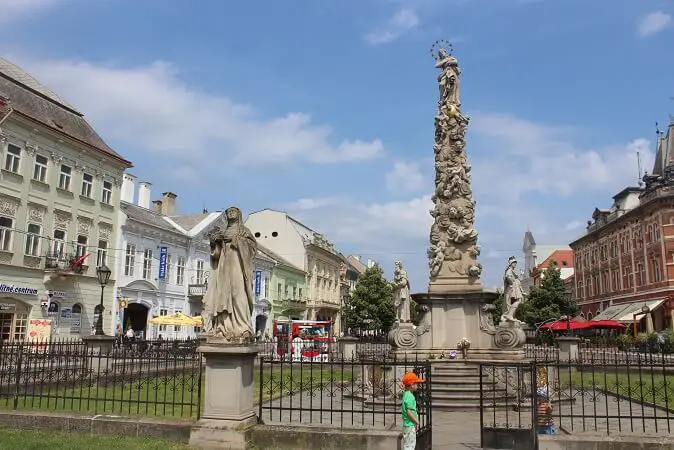 Behind the theater, a 14 m tall baroque Plague Column commemorates the victims of an epidemic plague in the 18th century. On its top stands St. Mary, a symbol of the citizens' gratitude for the end of it.
3. Walk up and down the main street, Hlavna Ulica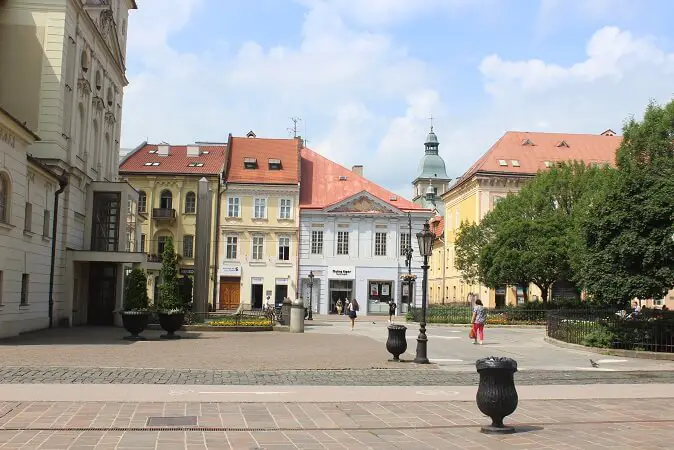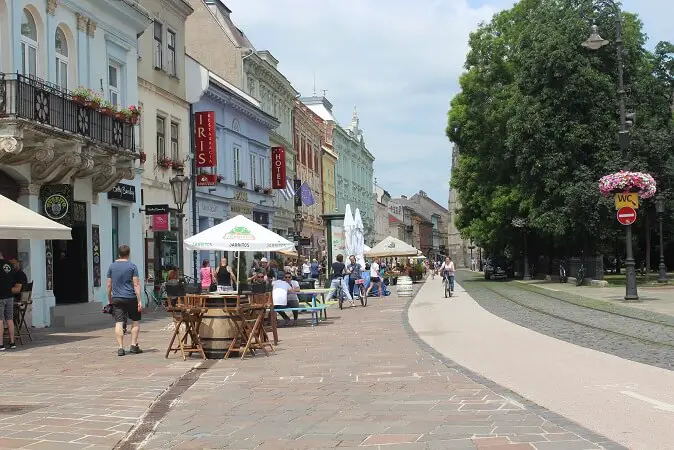 Most of the aristocratic palaces, stylish shops and city mansions are located along the main street. Take your time to gaze at the colorful houses and beautiful flowers that adorn it during summer.
Through the middle of the pedestrian zone runs a tiny canal. It's a thoughtful reminder of the actual stream that used to flow just there in the past.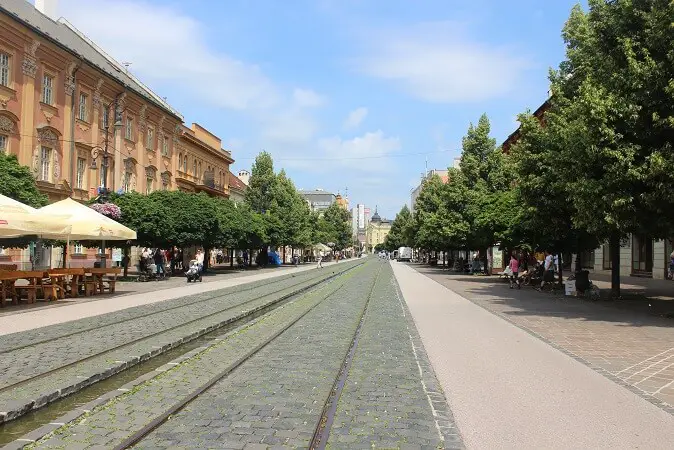 4. Check out the best street art in Slovakia
From huge murals to the beloved statue of old Julius Jakobyho, a talented Hungarian painter that called Kosice and high-heel shoes spread around town, the street art of Kosice is pretty diversified. Those huge shoes (at least two) honor the memory of Andy Warhol, a leading artist of the 1960s Pop art movements, whose parents were from the East of Slovakia. Both the statue and one of the shoes can be seen on Alžbetina street that leads to the main Cathedral door.
5. Stroll along the Crafts Lane, Hrnčiarska street
Due to its location between Hungary and Poland, the city attracted many merchants. Consequently, most of them set up tiny shops on this charming lane. Pottery, local herbs, baked goods and many other things are still sold here, just a few steps away from the main street.
6. Taste traditional dishes with a modern touch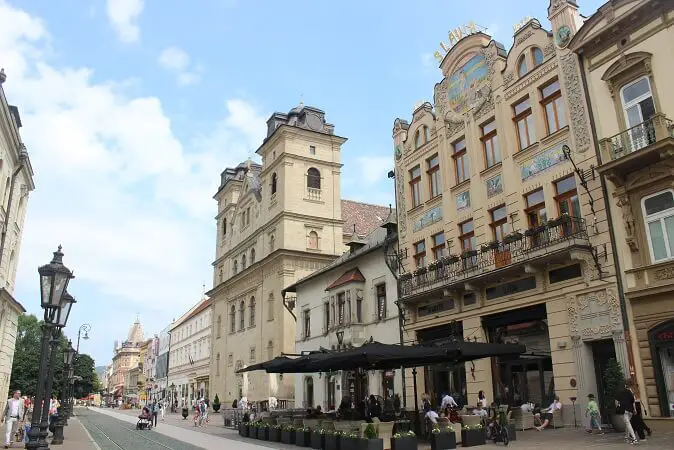 Kosice got the title of the gastronomic capital of Slovakia. Therefore, there's no better place in the country to taste all those traditional dishes. For instance, potato pasta, sheep cheese, crispy bacon, sour cream, duck and poppy seeds, as well as the garlic soup. In many restaurants the cooks have added a modern view to the plates, which only makes them more appetizing and delicious. Wash it down with the local cola, called Kofola, a little more bitter than the world-wide known one. Unfortunately, I'm still not used to taking pictures of my food before eating it.
7. Enjoy the cafe culture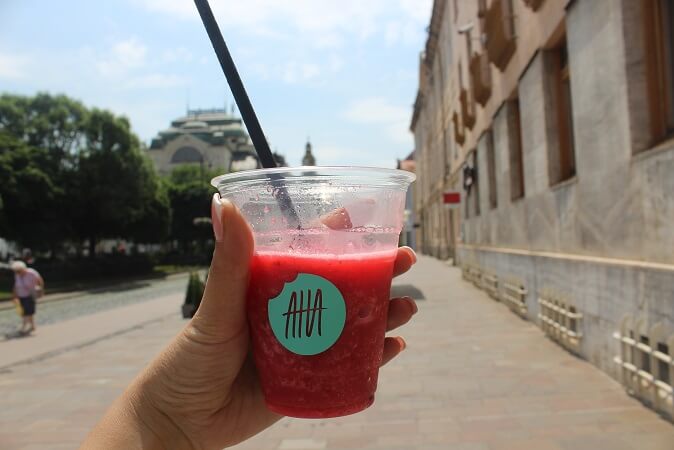 The main street and the nearby ones are full of cool cafes and amazing places to hang out. On a warm day, the city center is full of locals walking, sitting in the outdoor terraces, simply enjoying their city. Join them and spend time in some of the numerous cafeterias.
I hope that next time you're around the region, you'll include Kosice in your itinerary and give it the much deserved attention. After getting a hang of the city, you can check other underrated Slovak wonders as the Spis Castle, Tokaj wine-region, High Tatras or the Slovak Paradise National Park. It makes for a much better base for day-trips than Bratislava.
Did/Would you enjoy Kosice?
Read the article later!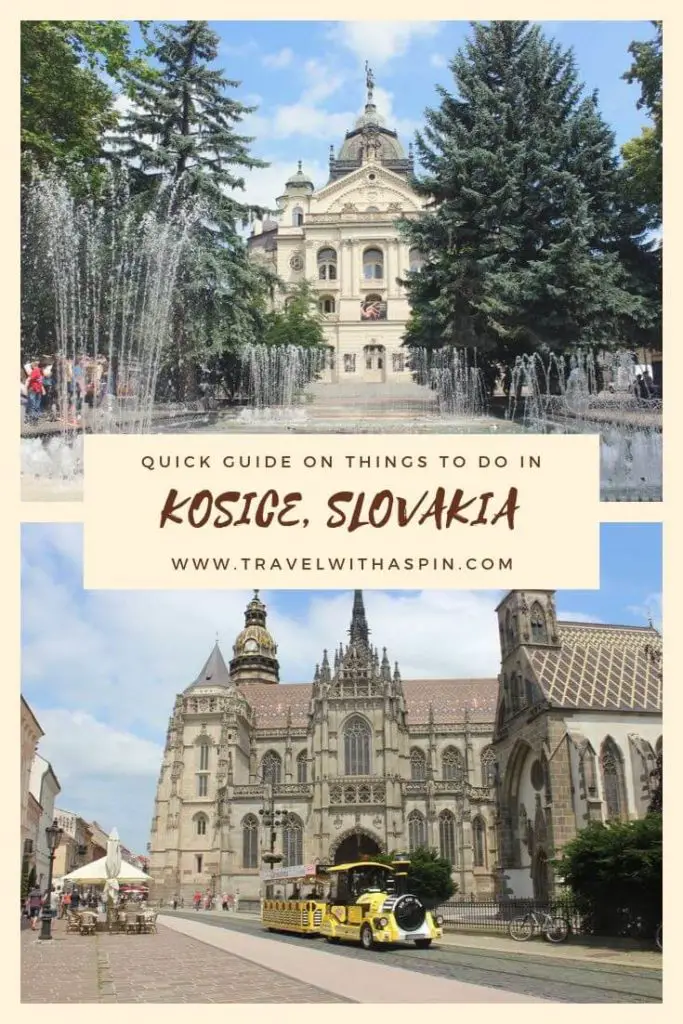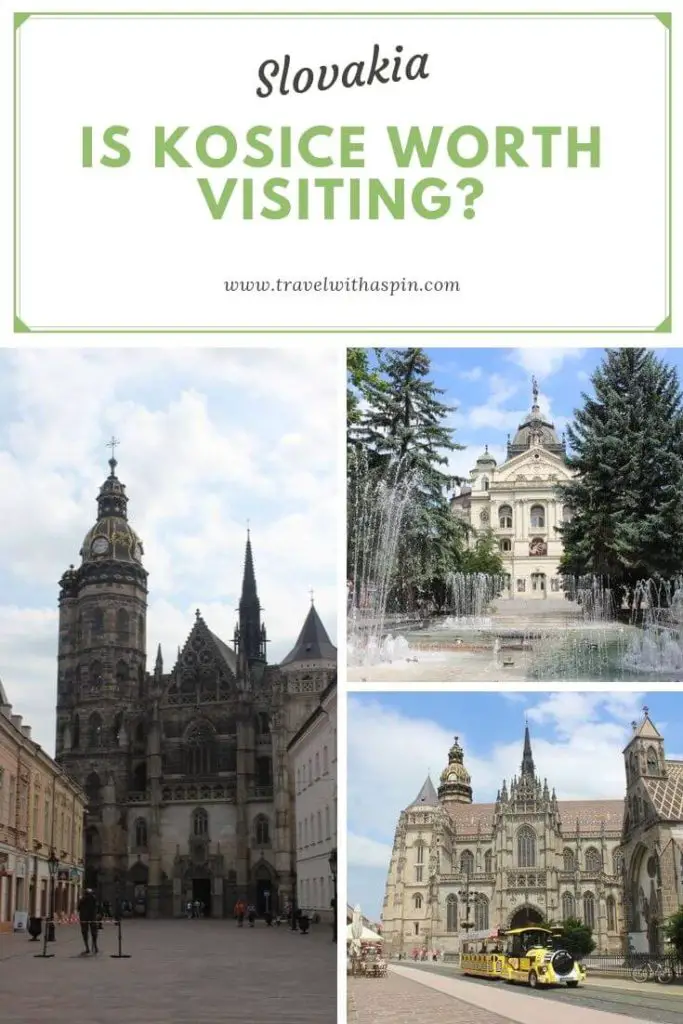 Travel With A Spin contains affiliate links. If you make a purchase through these links, I will earn a commission at no extra cost to you. Thanks for reading!